Cultural Foodie Itinerary
According to the Census, in 2014, 27 percent of Bellevue's population is Asian. Bellevue has the fastest growing population of India-born immigrants of anywhere in the United States. What does this mean for visitors? An incredible cultural and culinary adventure!
Bollywood movies play alongside Hollywood blockbusters, ramen restaurants are popping up all over Bellevue, and you can now get tea grown in China, snack on chaats (Indian snacks) and dine on Dim Sum any day of the week.
We've created an itinerary to help you plan your own cultural foodie adventure in Bellevue with help from locals such as Bellevue Uwajimaya's store director, Hiroshi Hibi who shared where to eat the most authentic Taiwanese food and Moksha restaurant owner Padma Rajaram, who tipped us off on where to find the freshest curry leaves and spices. 
Shop directly from the source. Bellevue has nearly a dozen international specialty markets, each unique.
Uwajimaya, a grocery store devoted to the large swath of Asian cultures, features groceries, produce, meat and seafood and gifts. Seasonal events include Lunar New Year, Lion Dance performances and more.
Catering to the large Indian population in Bellevue, stop by Apna Baazar one of the most popular grocers with authentic ingredients from India such as a variety of food, spices and curry leaves, chaats (Indian snacks) and health and beauty products.
One of the largest Asian grocery chains in the US, Korean grocery store chain H Mart the store specializes in Korean goods but also caters to the larger Asian audience with groceries and a large to-go section.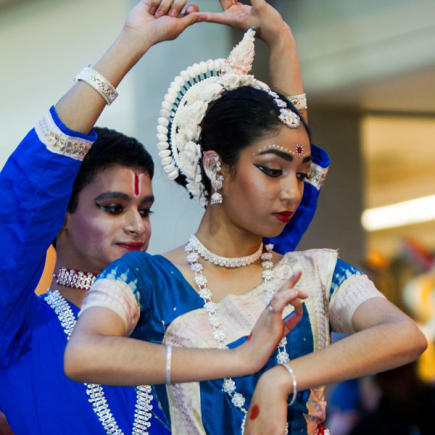 Spin the globe to experience a wide variety of dining options:
Japan and the Ramen Revolution: Hokkaido Ramen Santouka opened its first restaurant in the United States in Bellevue. Around that same time, several other ramen restaurants popped up in the vicinity including JINYA Ramen Bar and Kukai Ramen & Izakaya. All restaurants chose to start in Bellevue before expanding to Seattle because of the Asian demographic in the area. Hokkaido Ramen Santouka, known worldwide for its unique broth that takes 18 hours to cook to perfection.
Tea Time: For a cup of "real tea" head to Smacha, a Chinese teahouse that uses tea leaves from six tea gardens in provinces across China. Smacha also creates specialty desserts designed to pair with the many teas they sell.
Bubble Tea: Get a caffeinated pick me up at Drive Thru Boba & Ice Cream. Dedicated to the popular tapioca-based tea drink, this café offers a simple menu featuring milk, lemon sweet and milk teas. But be warned, contrary to what the name would suggest, this joint is no longer actually a drive-thru (but who likes things that make sense anyways?).
Indian: Moksha, an independently-owned Indian restaurant that specializes in authentic Indian food featuring slow-cooked sauces and spices from the Southern states of India. 
Taiwanese: Facing East specializes in family style dining ranging from Taiwanese specialties such as a variety of noodles, pancakes, pottages (heavy soups) and meat-based entrees to shaved ice (ranging from green bean and peanut to taro root or pressed barley).
Vietnamese: Monsoon East, owned by Saigon-born sibling chefs Sophie and Eric Banh, dishes up modern Vietnamese cuisine in the Old Bellevue neighborhood, blending traditional Vietnamese cuisine with Pacific Northwest innovation.
Cultural experiences:
Bollywood movies are shown alongside Hollywood blockbusters as part of the daily line up of movies at Lincoln Square Cinemas.
Get a henna treatment on your hair or hands from Bombay Beauty Salon. This Indian boutique specializes in henna for weddings and events throughout the year. 
Other cultural events throughout the year include: Experience Lunar New Year (in February), Cultural Crossroads Festival (in November), Flavors of India (summer) and Aki Matsuri Japanese arts celebration (in September).