Eastside Heritage Center
Eastside Heritage Center was formed in 2001 through the merger of the Bellevue Historical Society (est. 1986) and the Marymoor Museum of Eastside History (est. 1965). With a collection of over 30,000 artifacts, thousands of historic photos and extensive archival materials, Eastside Heritage Center is one of the largest historical organizations in East King County.  EHC works to ensure that connections to the people, places and organizations that shaped this community are preserved and shared with the public.
There are many ways that you can discover the historical side of the Eastside!
Visit a historic site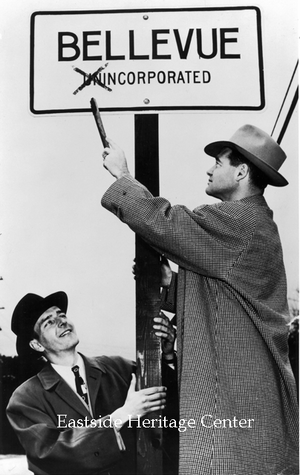 F.W. Winters House (2102 Bellevue Way SE, Bellevue)
Listed on the National Register of Historic Places, the Winters House was built in 1929 in Mission Revival style for $32,000 by Frederick and Cecilia Winters.  The House sits on the edge of the Mercer Slough Nature Park, which once was the site of fertile floricultural and agricultural lands.  Explore and understand Bellevue's roots while strolling through this historic house of Spanish-influenced architecture. 
Visiting hours: Temporarily closed through 2025.
For more information call Eastside Heritage Center at 425-450-1049 or email info@eastsideheritagecenter.org

Participate in hands-on history programming
Fraser Cabin Heritage Days
Summer, exact dates TBD at the 1888 Fraser Log Cabin in Kelsey Creek Farm Park (410 130th Pl SE, Bellevue)
Eastside Heritage Center presents free, hands-on educational programming at the 1888 Fraser Cabin in Kelsey Creek Farm Park, bringing history to life for families young and old.  Visitors are invited to discover the story of the Fraser Cabin and the Twin Valley Farm, and participate in hands-on activities that relate to 1880's early settler life: grind corn, churn butter, collect eggs, knead dough, wash clothes and learn about log cabin construction.
For more information visit http://www.eastsideheritagecenter.org/
Uncover The Area's Industrial Past
Early Bellevue Walking Tour
Before glass towers defined the skyline and shoppers bustled across busy pavement, Bellevue was a quiet town of dirt roads and scattered homes. The first settlers from Seattle began to drift across Lake Washington in the 1860s. Discover the hidden history throughout downtown Bellevue on this Early Bellevue Walking Tour, presented by Eastside Heritage Center.  
Summer, exact dates TBD. Please contact our office at 425-450-1049 or education@eastsideheritagecenter.org.