Eastside Heritage Center
Eastside Heritage Center was formed in 2001 through the merger of the Bellevue Historical Society (est. 1986) and the Marymoor Museum of Eastside History (est. 1965). With a collection of over 30,000 artifacts, thousands of historic photos and extensive archival materials, Eastside Heritage Center is one of the largest historical organizations in East King County.  EHC works to ensure that connections to the people, places and organizations that shaped this community are preserved and shared with the public.
There are many ways that you can discover the historical side of the Eastside!
Visit a historic site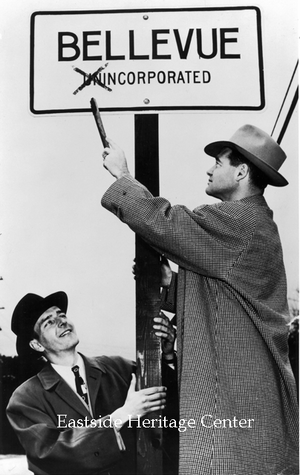 F.W. Winters House (2102 Bellevue Way SE, Bellevue)
Listed on the National Register of Historic Places, the Winters House was built in 1929 in Mission Revival style for $32,000 by Frederick and Cecilia Winters.  The House sits on the edge of the Mercer Slough Nature Park, which once was the site of fertile floricultural and agricultural lands.  Explore and understand Bellevue's roots while strolling through this historic house of Spanish-influenced architecture. 
Visiting hours: Tuesdays, 10am-4pm; Thursday-Saturday, 10am-2pm
For more information call Eastside Heritage Center at 425-450-1049 or email info@eastsideheritagecenter.org

Participate in hands-on history programming
Fraser Cabin Heritage Days
April-October, 3rd Saturday of the month, 11am-3pm at the 1888 Fraser Log Cabin in Kelsey Creek Farm Park (410 130th Pl SE, Bellevue)
Eastside Heritage Center presents free, hands-on educational programming at the 1888 Fraser Cabin in Kelsey Creek Farm Park, bringing history to life for families young and old.  Visitors are invited to discover the story of the Fraser Cabin and the Twin Valley Farm, and participate in hands-on activities that relate to 1880's early settler life: grind corn, churn butter, collect eggs, knead dough, wash clothes and learn about log cabin construction.
For more information visit http://www.eastsideheritagecenter.org/

Celebrate Bellevue's Agricultural Heritage
Bellevue Strawberry Festival
Held the 4th weekend in June at Crossroads Park (NE 8th Street and 164th Ave NE, Bellevue)
http://www.bellevuestrawberryfestival.org/
The Strawberry Festival is Eastside Heritage Center's Signature Event, celebrating the region's agricultural heritage and its diverse cultural past, present and future.  The Festival features exciting entertainment, delicious food, fresh strawberry shortcake, over 70 craft & merchandise vendors, hands-on history experiences, a classic auto show, and tons of family fun with games, face painting, pony rides, rock climbing, trains, inflatable bouncers, and much more!

Uncover the area's industrial past
Coal Mining at Cougar Mountain
In 1888 there were 20 mules and 200 men employed here! Coal mining was the Eastside's first major industry, producing millions of tons of coal to be shipped from Seattle to San Francisco at the turn of the 20th century. The Coal Creek mine was the world's largest in 1908, supporting a town of nearly 450 structures - hotels, stores, a theater, dance hall, and a professional baseball field. Today the town is gone and only some concrete remains along the trails to remind us of the industrial activity that took place at this site. Take a hike through Cougar Mountain and Coal Creek Parks and discover some hidden history!
Guided history hikes can be arranged with a minimum 2-week notice by contacting Eastside Heritage Center at 425-450-1049 or emailing education@eastsideheritagecenter.org