Arts Aficionado Itinerary
You know your Manet from a Monet. A trip isn't complete without wandering through a museum and marveling over all the exhibits. Your music collection is the envy of your friends and you relish any opportunity to see a favorite perform live or discover new acts to share with everyone back home. Shakespeare wasn't kidding when he said, "All the world's a stage..." because you're thrilled to have front row tickets to the latest show. Art and culture isn't something observed, it's experienced on all levels. So what are you waiting for? Here's some ideas to help you get started nourishing your creative spirit here in Bellevue!
City Sculpture Walk
Begin your morning with an invigorating art walk through Bellevue to experience the city's ongoing sculpture exhibition featuring a rotating list of acclaimed American artists. The total walk is about 5 miles and the route includes strolls through parks, shopping areas and public plazas. Of course you can always stop along the way for some retail indulgence or refreshments. Bellevue's downtown showcases nearly 130 works of public art - check out the Downtown ArtMap to make sure you don't miss a minute of inspiration.
Breakfast at Café Cesura
The art of the sandwich is serious business at Cesura. Take in the expansive ceilings, minimalist embellishments and aubergine walls at this local coffee shop, known for its over-the-top breakfast sandwiches and Northwest-inspired latte art. Take in the rotating line-up of Northwest artists on the wall as you enjoy a cup of Stumptown coffee with your breakfast sandwich filled with local ingredients like Mt. Townsend Creamery New Moon cheese and apple-smoked bacon.
Experience BAM-tastic Art from Near and Far
Known to locals as "BAM," the Bellevue Arts Museum is located in the heart of downtown. With a unique focus on art, craft and design, BAM connects the community and guests with extraordinary works by Northwest artists, along with rotating list of American and international exhibitions.  Make sure to check out BAM's website to see what exhibits are currently on display and to find art classes for kids, white glove tours and more.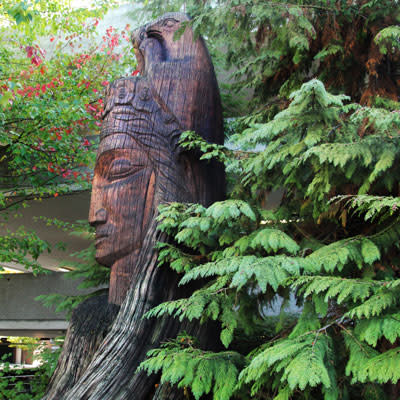 The Art of Summer at the Bellevue Arts Fair
If you find yourself in Bellevue this summer, a not-to-be-missed event is the annual Arts Fair, held the last weekend of July. For three full days, three arts fairs - the BAM ARTSFair, Festival of the Arts, and 6th Street Fair - take over downtown Bellevue, bringing an oasis of high-quality art and craft. Hundreds of juried artists from around the continent showcase handmade crafts and fine art. Searching for a kid-friendly activity? Check out KIDSFair, a creative, messy and smart way for your young ones to join in on the fun with hands-on art projects.
Music, Movement and Maestros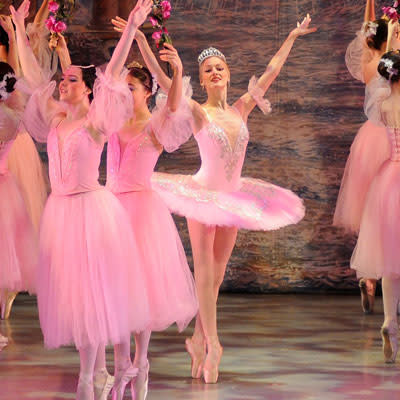 Featuring a robust schedule of opera, dance, ballet, jazz and blues, celebrate the creative powers of live performance. The Theatre at Meydenbauer Center hosts an exceptional roster of talent that never disappoints including the Bellevue Jazz and Blues Festival, the Sammamish Symphony Orchestra, Bollywood-inspired dance and the Evergreen City Ballet. 
If you're looking for dinner and live music, check out Bake's Place. This Bellevue gem provides live music, locally-inspired eats and small batch spirits. In the summer months, Bake's Place goes outdoors onto their 3500 square foot patio, the largest in downtown Bellevue.
Want to feel like you're in on a local secret? Check out Resonance at SOMA Towers, a boutique community event and performing arts venue uniquely designed to provide an acoustic that highlights the natural qualities of the human voice and non-amplified instruments. Enjoy vocal ensembles, chamber music concerts and more.
Wine Pairing and Bites at Purple Café and Wine Bar
Take a flight - a wine flight, that is - at Purple. Admire the elegant-rustic décor, complete with wrought metal fixtures, new walls from old brick and poured concrete floors and tables, straight out of California wine country. Need to nosh? Wines Northwest notes, "the fine art of grazing is encouraged by a menu of familiar favorites as well as adventurous opportunities." The lamb burger and lobster roll are consistent favorites among locals and guests, alike.
Gateway to the Galleries
Bellevue and its neighbor Kirkland boast a large number of top-notch galleries, ranging from the accessible and affordable to high-end collections that delight the savvy collector. Check out Hall Spassov Gallery, an exclusive Eastside destination for fine art featuring a unique roster of international, national and local artists. Then head to Kirkland on the second Friday of every month for their Art Walk to explore the Park Lane and Howard Manville galleries.
Playtime at KidsQuest Children's Museum
Who says art is just for adults? Enjoy hours of delight and discovery at this hands-on, interactive museum for children. KidsQuest is designed to engage kids ages birth to age eight. Art, science, technology and daily life experiences are integrated in world-class exhibits and programs with strong ties to the Pacific Northwest.
​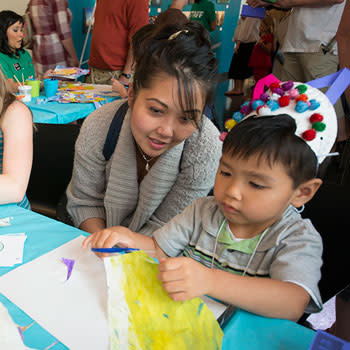 The Art of the Picnic
Pack a picnic and discover one of the many hidden plazas with fountains and sculptures that can be found in a variety of small "pocket parks." The Bellevue Downtown Park is not to be missed if you are looking for a place to lay your blanket and enjoy an outdoor snack. Fill up your basket with food from a variety of gourmet delis including Gilberts on Main or Pogacha Café.
Shopping in Old Bellevue and Beyond
If you're looking to explore the art of hand blown glass, check out celebrated Pacific Northwest company glassybaby. It takes four glass artists and three layers of glass to create each one-of-a-kind glass cup, votive or bowl. With each glassybaby purchase, a portion of the proceeds goes to charities dedicated to healing.
Want to try your hand at glass art? Stop into the Redmond School of Glass. Each one-time class is designed to give each student an immersion in glass blowing in the afternoon or evening. Each class is interactive and ideal to enjoy with a friend or a small group.
Be Inspired by the Beauty of Bellevue, Create Your Own Masterpiece
Grab your camera or paint brush and visit the Bellevue Botanical Garden where you will find vivid subject matter year-round. From dramatic fall foliage and pretty spring blooms to the illuminated Garden d'Lights holiday wonderland, you're sure to see something that will inspire your next masterpiece.  For a more interactive experience, try one of the garden's educational courses covering a variety of topics from how to grow lavender in the Northwest to outdoor photography classes.
End your day by taking a seat at Enatai Beach Park or Chism Beach and enjoying the sunset over the beach. Try your hand at painting the sky at dusk or simply take in the natural masterpiece before you. Feeling inspired from your day of taking in the arts? Build a sand castle and when your handiwork is finished take a dip in the designated swim area on Lake Washington.