With more than 5,000 guest rooms throughout 29 hotel properties, Bellevue, Washington is the place to stay whether for a night or twelve. From luxury suites to budget-friendly rooms, this city is eager to extend hospitality to our visitors. Get to know our "roomier" side this year as we profile newly opened properties.
---
AC BELLEVUE
Newly opened in 2017, the AC Hotel (by Marriott) added 234 guest rooms and a flourish of European style to Bellevue's hotel scene. It must first be noted that, in this case, AC does not stand for "air conditioning" or the first half of metal rocker band ACDC. Instead, AC pays tribute to the hotel's roots in Spain where Antonio Catalan first developed the brand in the late 1990's. Marriott acquired the brand and opened its first AC Hotel stateside in New Orleans in 2014.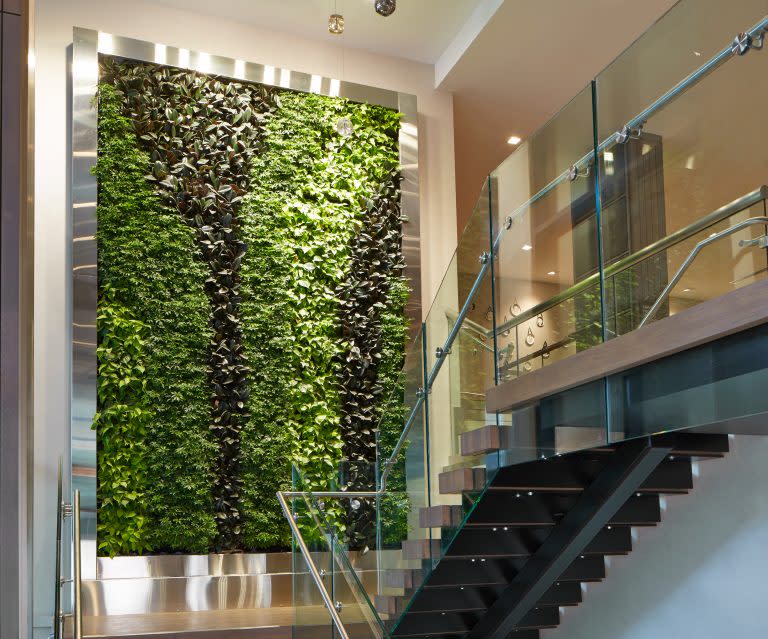 Local Flair
Each AC Hotel incorporates local flair – art, spirits, and culinary partners – while maintaining European roots in the furnishings, layout, and breakfast buffet. The lush 15-foot living wall refreshes guests with oxygen as they make their way to the front desk at AC Bellevue, boasting a spacious open-plan lobby. To the left of the front desk hangs a collection of ceramic plates by artist Saya Moriyasu, each conveying a different black and white portrait. Ample seating in a variety of warm neutral tones and textures spreads throughout the lobby ending with a row of leather-wrapped bar stools to the right with club chairs and white cocktail tables filling the rest of the bar.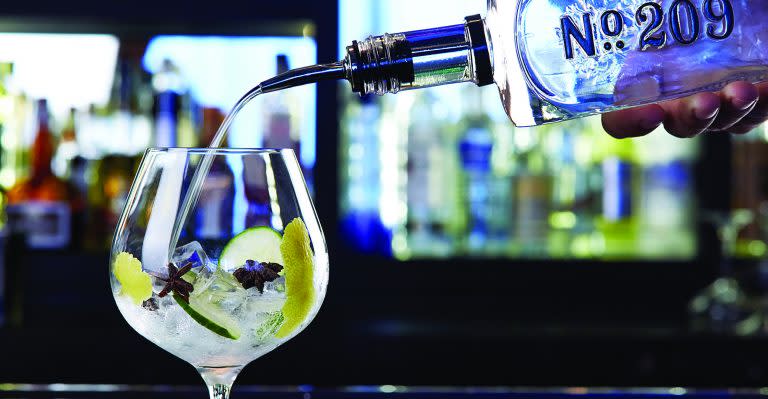 Every evening when the clock strikes six, the bartender can be found pouring nips of bourbon from Woodinville Whiskey Co. into an array of small white espresso cups while coffee brews in a device that looks like it belongs in an apothecary – blue open flame heating a water-filled glass sphere with coffee grounds in a separate vessel above. A nightly ritual is part of the AC Hotel brand and at AC Bellevue, it is a Spanish Coffee spiked with bourbon and a hit of cayenne pepper. Other local food and beverage partners include Fremont IPA on tap, cans of House Wine and a colorful array of Seattle Chocolates bars in the AC store.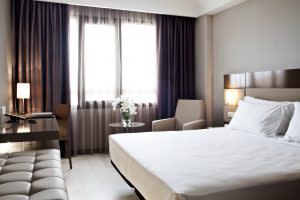 Guest Rooms and Amenities
After a refreshing inhale at the living wall, it's easy to exhale any traveling stress upon opening the door to your room. Clean lines and clutter-free, AC Bellevue guestrooms have been designed without unnecessary items allowing the eyes and body to relax. Modern design, luxury linens, and USB ports right where you need them were thoughtfully woven into each of the hotel's king and double queen rooms. Two dozen alternative king rooms flip the bathroom design on its head, pulling out the sink and vanity giving the room a more spacious feel. A "Hydration Station" on each floor features glass carafes that guests can fill and take to their rooms eliminating the use of plastic water bottles. The AC library offers two computers and a printer plus actual books for guests to peruse, a spacious fitness center with a variety of popular gym equipment and free weights,.
The AC Kitchen
The daily breakfast buffet ($15) leans European. Think meats sliced fresh with a counter-mounted red Berkel slicer, cheeses, croissants, egg tarts, and Nutella. Covered outdoor seating wraps the southern end of the building complete with heat lamps (and blankets upon request), as Northwest weather requires.
Small bites are available in the bar, and hotel staff is quick to refer guests to local coffee shops, restaurants, and bars including Fika House Kafé, Bake's Bar & Bistro across the street featuring live music, food and drink, and Seastar Restaurant & Raw Bar."We love personalizing guest experiences here at AC Bellevue," said Director of Sales and Marketing Rachel Park – like congratulating a nursing school grad with a teddy bear sporting a cast on his leg signed by the staff. Or, when a little girl accidentally left her favorite stuffy behind, the staff took photos of her bear all around the property before reuniting it to its owner along with a photo album of its adventures while they were separated.
Meeting Spaces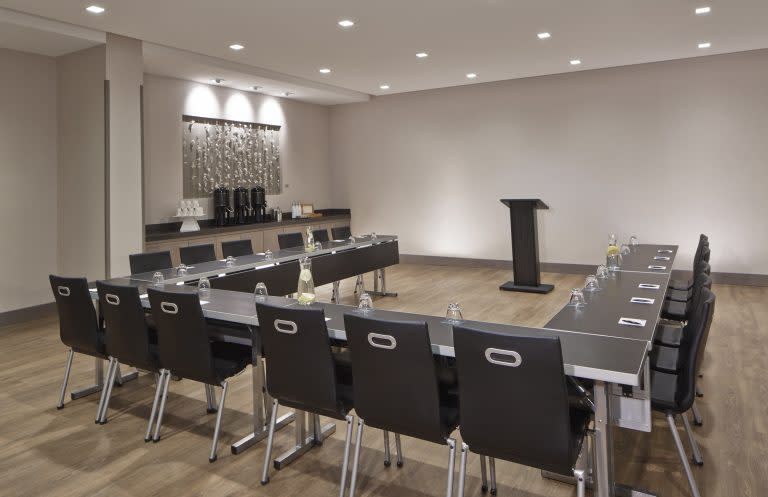 Other rooms in the hotel include two media salons (mini boardrooms) featuring an integrated communication hub, whiteboard, and television each with room for up to seven people. The AC's largest space, with room for 50, can be configured for a board meeting, presentation or reception. A full catering menu is available from the AC Kitchen.
Images courtesy of AC Bellevue.