Bellevue is known for its strong international influence which lends itself to the many incredible cafés and dessert shops in the city. Gone are the days of searching menus in vain for a matcha latte! Now, there are entire tea shops dedicated to serving delicious matcha drinks and treats. From teddy bears filled with creamy matcha tea to puffy bubble waffles dusted with matcha powder, we're taking you on a tour of the top places to indulge your matcha craving in Bellevue.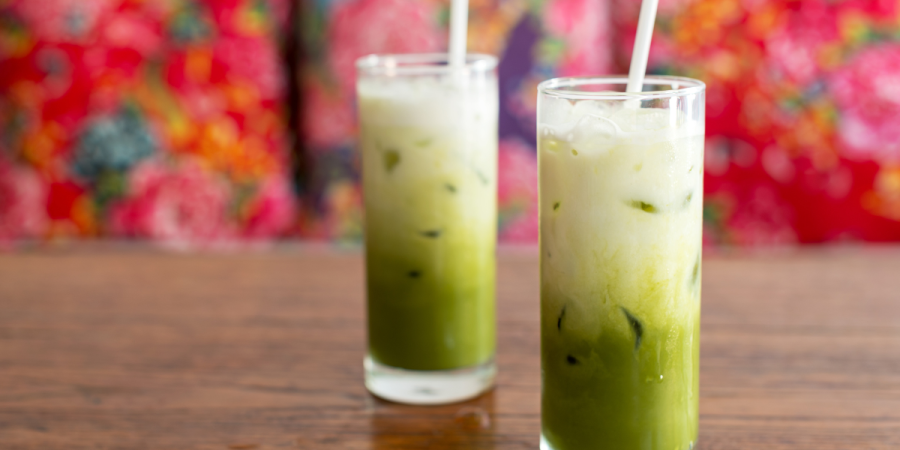 What is Matcha?
Bright, sweet, creamy umami, and (of course) green- Matcha has long been considered an alternative to coffee, but these awesome matcha spots will have you considering matcha as a favored addition to your drink lineup. Matcha is a high-grade green tea ground into powder, then used to flavor drinks and food. Much like coffee-flavored desserts, matcha is used to flavor desserts in a fun and unique way. The caffeine found in matcha is said to give the consumer a more sustained subtle energy than the strong rush one might feel after drinking coffee. In comparison to coffee, matcha taste is light and fresh and can be deliciously paired with fruits for added complexity. Matcha is an exciting new flavor profile to explore and has great versatility for culinary creations.
Matcha Magic
Location: 10246 Main St Bellevue WA (Suite A)
Touted as Bellevue's first plant-forward matcha bar, Matcha Magic is a new and popular addition to Old Bellevue's Main Street. Inside the adorable pink café, you'll find equally colorful drinks such as the Ube Matcha Latte (ala the M. Ruffalo), the Campfire S'Matcha, and the Cinnamon Toast Matcha. Matcha magic is growing in popularity and hopes to help patrons find their daily magic with boosters and adaptogens that make their drinks tasty and beneficial.
Location: 10527 Main Street, Main Street Flats Apartment, Bellevue, WA 98004
Affectionately titled, "the nicest place in Washington" by Reader's Digest, the Bellden Café is known for its delicious beverages & food, hospitality, and philanthropy. The café donates proceeds of its sales to community charities to bettering the community while nourishing its clients with healthy food. Bellden Café is a frequented spot for matcha latte lovers, yummy iced matcha variations, and matcha Belgian waffles. The matcha waffles have a gluten-free version, and for even healthier alternatives, we highly recommend their specialty toasts or smoothie bowls.
Chamei Matcha
Location: 400 Bellevue Square, Ste 188, Bellevue, WA 98004
If you're looking for all things matcha, make your way to Chamei Matcha in Bellevue Square. Home to a wide variety of tasty renditions of the beloved flavor, Chamei Matcha kicks it into overdrive! Their menu is packed with scrumptious novelty matcha drinks and desserts such as: taiyaki, frappes, Chamei signature parfaits, cheezo fruit tea, lattes, and soft serve ice cream. Naturally, their incredible matcha ice cream adorned with pastel mochi and sprinkles is one of our favorite menu items, but there's a twist! Chamei Matcha offers the sweet toasty purple ube ice cream as a stand-alone flavor or swirled with your matcha.
Café Aloe
Location: 10961 NE 2nd Pl #100, Bellevue, WA 98004
Café Aloe is a Hong Kong style café known for its adorably shaped piglet dumplings and colorful drinks. The café serves a creative summer matcha menu of drinks and desserts that are sure to curb your matcha cravings. The popular matcha raspberry latte comes iced and is layered bright green, white, and magenta. The Macha Yuzu Mojito is a refreshing twist on the classic and is perfect to cool down in the summer heat. Another unique classical twist is the matcha crème brûlée that amplifies the smoothness of the time-honored classic.
Happy Lemon
Location: 1031 Bellevue Square, Bellevue, WA 98004
Happy Lemon stores are sprinkled throughout the Puget Sound region and have a strong cult following loyal for their tasty boba tea drinks, smoothies, bubble waffles. If you'd like to try something different. We recommend their avocado matcha or mango matcha smoothies. They also have a delicious red bean bubble waffle covered with sweet matcha powder that is delicious! We enjoy Happy lemon for its upbeat atmosphere and creative options of fruit teas and bubble teas, as well, when we're looking to mix things up.