Come late November, Washington becomes a winter wonderland full of fun activities that require little to no experience to participate. In Bellevue, you don't have to be a daredevil or black diamond skier to enjoy the snow; there are many ways to participate that don't require racing down a mountain. During your next visit, be sure to reserve a day for winter activities like snowshoeing, snow tubing, cross country skiing, snowmobiling, or scenic gondola rides. Bellevue is near multiple ski resorts and recreational areas where you can enjoy the snow in comfort. We'll show these five winter activities to incorporate into your next Bellevue vacation.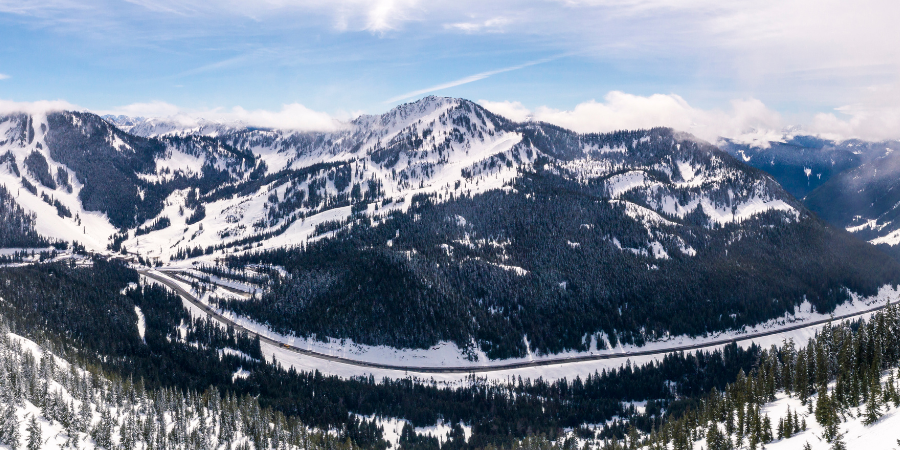 Steven's Pass
---
1. Cross-Country Skiing
Are you afraid of heights but want to glide smoothly over the fresh powder? Cross-country skiing might be just the thing for you. Cross-country skiing is very accessible and requires little to no experience. Cross-country skiing involves shuffling and gliding across relatively flat countryside. This mode offers hikers and snowshoers a new way to experience snow-covered terrain. Just 45 minutes away from Bellevue are two idyllic cross-country ski courses that will turn your Bellevue vacation into a bona fide ski trip. 
Located just 45 minutes southeast of Bellevue is the Summit Nordic Center. The center offers 70 km of groomed trails throughout the Cascade Mountains and daily ski rentals. Training courses are available for families and individuals. Watch our episode of The Vue to see Kara cross-country skiing at the Summit Nordic Center.
Glide through the snow with the majestic Mt. Rainier as your backdrop scenery. The park welcomes winter sports recreations like cross-country skiing and snowshoeing. Although the park doesn't offer lessons, cross-country skiers get the double benefit of traversing on fun trails while visiting an acclaimed national park. Ski rentals are available at the Longmire General store from late November to March. We highly recommend this quick excursion for your next visit to Bellevue.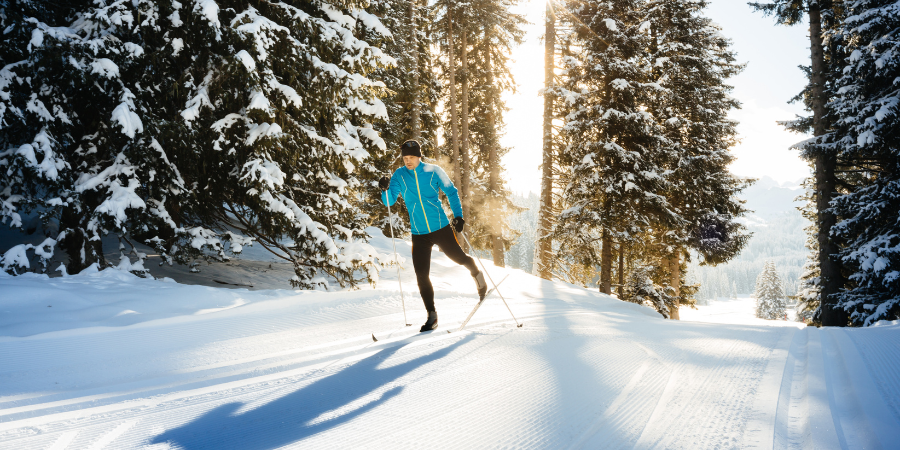 ---
2. Snowshoeing
Some of our beautiful trails and attractions in Washington become inaccessible due to snow unless you have snowshoes. Snowshoeing is an ancient and user-friendly mode of transportation great for individuals who like hiking. Bellevue is close to gorgeous trails and resorts known for their stunning scenic views.
The Snoqualmie Pass is home to scenic trails and prime conditions for snowshoeing. REI Co-Op established a Snowshoe rental outpost in the heart of the Snoqualmie pass. The outpost is near some of the best trailheads, including the Franklin Falls Trailhead which leads to the magnificent frozen falls. Visitors can easily reserve snowshoes ahead of time for two hours or a full day to enjoy the surrounding area at their leisure. If you are looking for more structure like a group activity, REI Co-Op offers incredible snowshoe tours. Participants can rent snowshoes and go on a tour through the Snoqualmie Pass that they'll never forget.
Don't let your skier friends have all the fun while you sit in the lodge. Crystal Mountain Ski Resort is just south of Bellevue and offers pristinely groomed snowshoe trails and snowshoe rentals. You can take things at your own speed while still enjoying the ski resort vibes. The views at Crystal Mountain are stunning and allow you to gaze at Mt. Rainier while you trek through the snow.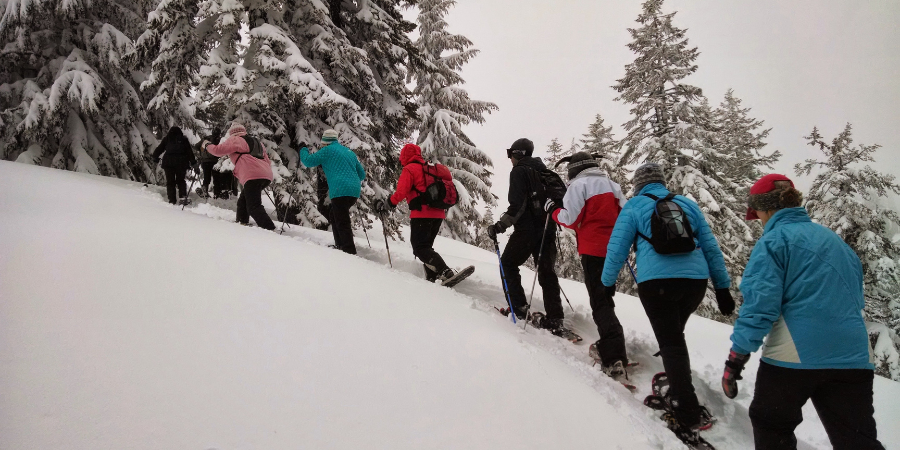 ---
3. Snowmobile
Do you have a need for speed? Snowmobiling offers an exhilarating rush and gives riders the ability to maneuver through snowy terrain. Only an hour and a half away, visitors can rent snowmobiles at the Last Resort in the Snoqualmie Pass. The Resort has a modern fleet of snowmobiles to blast through the Cascade Mountain trails. Snowmobiling is a unique activity to add to your Bellevue travel plan that is well worth the price and drive.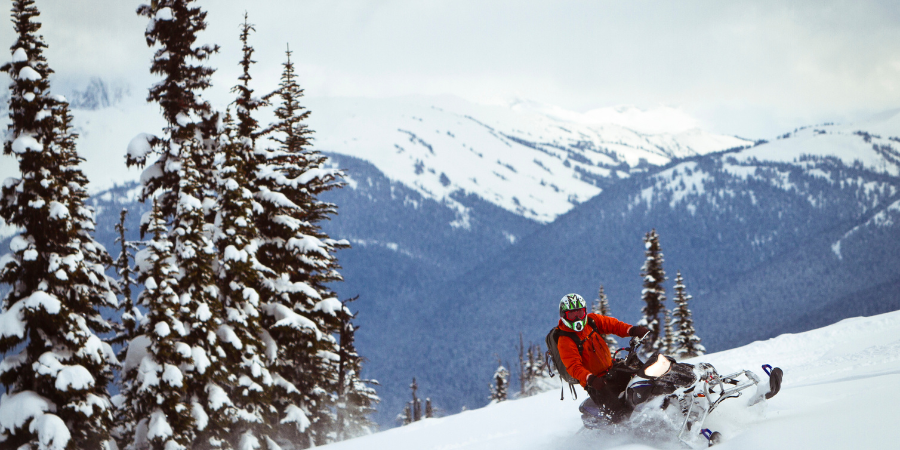 ---
4. Snow Tubing
If you have a more relaxed vibe, snow tubing is the fun-filled activity you need in your itinerary. Snow tubing offers all the winter thrills without preparation or skills. Bellevue is only a 45-minute drive from  Summit Tubing Park. Visitors can easily purchase tickets online to access the 14 tubing lanes. The ticket includes the cost of the snow tube, so visitors don't have to worry about bringing their own or renting. This activity is perfect for a last-minute addition to your Bellevue vacation because it's easy to coordinate and enjoy.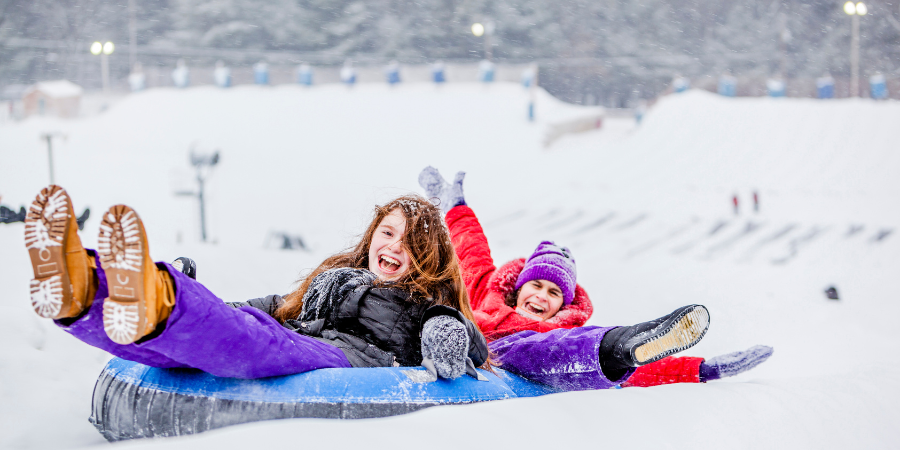 ---
The Crystal Mountain Ski Resort Mt. Rainier Gondola ride offers expansive views of Mt. Rainier and the Cascades. Perfect for the more voyeuristic type, the gondola ride gives you a bird's eye view of Washington's winter wonderland without having to step foot in the snow. While you're up there, dine at Washington's highest-elevation restaurant, the Summit House. All you need is yourself and a ticket to enjoy this breathtaking view, but be sure to dress warm!
Photo Courtesy of Crystal Mountain Resort
---
Let's Go!
Adding one of these winter activities to your Bellevue vacation itinerary elevates the wow factor of your vacation. These options are close to Bellevue and offer everything you need to enjoy the snow. So, next time you're here, skip the galoshes and opt for snowshoes instead to take advantage of the fun winter activities we have in our backyard.