Spring is a delightful time to visit Bellevue and experience the beauty of the Pacific Northwest. Bellevue has something fun for everyone and lots of springtime activities to enjoy. We've put together the ultimate adult-friendly two-day spring itinerary that allows for adventure, culture, cuisine, and natural beauty.
Check out our family-friendly spring itinerary if you're traveling with the kiddos!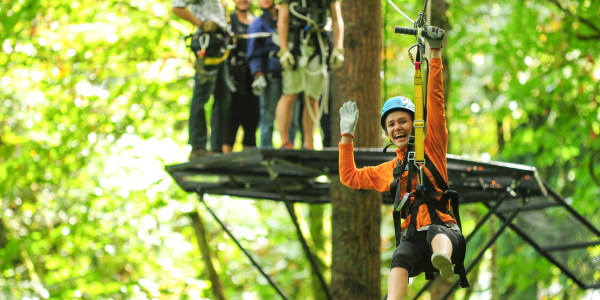 Day 1: Adventure time in Bellevue
It's your first full day in Bellevue and you're ready to explore! This day is all about connecting with the region's natural beauty as well as connecting with those in your travel party.
Breakfast
Eques is a favorite spot for breakfast. Start the day off right, and fuel up on delicious Tiramisu pancakes before your big adventure day. The restaurant uses ingredients sourced from the Pacific Northwest and the menu is Washington-inspired for added flair. If pancakes aren't hitting the spot, their eggs benedict and a local smoked salmon white egg omelet are sure to satisfy.
Test your courage and teamwork skills as you explore Bellevue's forests and trails. During the Bellevue Zip Tour, you'll zoom across six zip lines and cross two wooden suspension bridges. Throughout the tour, you'll be fully immersed in nature and see epic views of Mt. Baker and Glacier Peak.
Check out our ambassador Kara zip through the forest on The Vue!
Lunch
Authentic dim sum with a modern atmosphere, The Dough Zone is a beloved dumpling house offering noodles, milk teas, bao buns, and more. The Q-Bao pan-fried buns are out of this world and are a must-try. The wonderful thing about The Dough Zone is that its authenticity attracts visitors and locals from everywhere. Be prepared to mark your own order card and try not to fill up too fast, as your dishes arrive in courses.
Walk off those dumplings as you stroll through the gorgeous Bellevue Botanical Gardens. The flowers are in full bloom, and there are over 53 acres of gardens, wetlands, meadows, and forests for you to explore at your own pace. If you are looking for an interactive experience, starting the first Saturday of April, guided tours are available on Saturdays and Sundays. Be sure to see the Yao Japanese garden and the Ravine Suspension Bridge for some Instagram-worthy photo ops.
… Back to the hotel for showers and a quick recharge because tonight, you're hitting the town!
Dinner & Fun All-In-One!
Now that you're refreshed, head over to Lucky Strike for a night of delicious food, drinks, and interactive fun. This isn't your typical bowling alley, Lucky Strike features 49,000 square feet of luxury bowling lanes, upscale interiors, state-of-the-art arcades, a dance floor, and a full-service bar. Dine on a modernized menu while you laugh and connect with your entire party.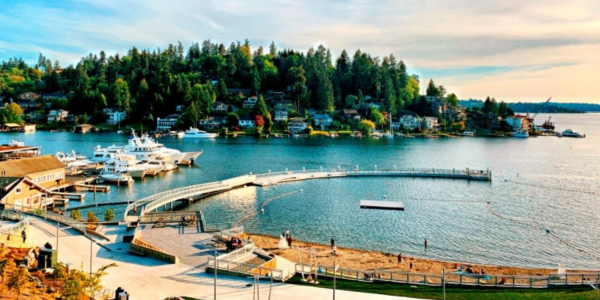 Day 2: Culture, Beauty, and Relaxation
Yesterday was packed with exhilarating fun and high energy, but today is all about relaxing and enjoying all that you've accomplished on your journey so far. Enjoy today like a local and take time to notice the little things that make Bellevue so special.
Brunch
You had a late night on the town… Hopefully, you've slept in just enough to enjoy sipping mimosa as you gaze over Bellevue's beautiful skyline. Ascend Prime Steak & Sushi offers the region's most delectable brunch paired with one of Bellevue's most gorgeous views. Located on the 31st floor of the South Lincoln Tower, the atmosphere and food is unforgettable. Reservations are highly recommended.
Check out our ambassador Nelson as he dines at the acclaimed Ascend Prime Steak & Sushi on The Vue.
Take the elevator down to the street level for a four-minute stroll to the Bellevue Arts Museum. Inside you'll see compelling works of art from artists around the world. The museum has a gift shop that carries original pieces of art from local and featured artists available for sale.
Bellevue's quaint main street is full of special stores waiting for you to explore. Once the old whaling district, "old main street" is now full of charming boutiques and rare finds. You'll find the world-famous glassybaby and the locally owned Whisk. These shops are the perfect place to score unique gifts for that special someone.
Get a sneak peek of the Bellevue Arts Museum and glassybaby with our Ambassador Mr. Little on The Vue.
Snack Time!
After all this culture and shopping, you deserve a very special snack at Molly Moon's flagship ice cream parlor. This cult-favorite creamery features sustainable Pacific Northwest sourced ingredients and creative flavors. Don't feel guilty about indulging in this exceptionally delicious ice cream because some of the proceeds go to the Anna Banana Milk Fund, which offers free milk to families in need.
Be sure to save some of your ice cream for your walk by the water. Just down the street is Meydenbauer Bay Park, home to the REI Boathouse and marina. Stare at the shores of Lake Washington and stroll down the pier. If you're feeling adventurous, the REI Boathouse offers kayak and paddleboard rentals starting May 1st.
Dinner
End your trip with a bang! Carmine's is Bellevue's premier Italian restaurant and is the perfect place to end your adventure. Their upscale atmosphere offers an extra special topping to your vacation. Their authentic Italian cuisine will have you craving more. Their transcendent ambiance will have you wondering if you were transported to Italy or not. But, after you finish your meal with an espresso and dessert, you'll realize you're back in beautiful Bellevue! Reservations are highly recommended.