Bellevue COVID-19 Recovery
Visit Bellevue's number one goal right now is to support and provide our partners and industry stakeholders the information, resources, and tools they need, which includes accurate and up-to-date information as it pertains to the effects and impending recovery of coronavirus on the hospitality, travel, tourism and meetings industry.
This Bellevue COVID-19 recovery landing page is designed to provide insights that will be helpful in projecting the future recovery of the Bellevue hospitality, travel, tourism, and meetings industry. If you have questions, suggestions, or additional resources for this page please feel free to contact us directly.

Jump to each section:
---

Visit Bellevue Key Performance Indicators Dashboard
The Visit Bellevue Key Performance Indicator Dashboard reports on the number of visitors, visitor spending, economic impact, key hotel + lodging data, meeting + convention sales, marketing + communications information, and industry trends.
---

Arrivalist
Arrivalist's Daily Travel Index measures consumer road trips of 50 miles or more in all 50 U.S. states. The data is drawn from a panel of GPS signals representing road trips taken by car. The insights have been prepared to help travel marketers and other industry professionals gauge fluctuations in drive market trips in any of the 50 U.S. states. You need to toggle the state and distance traveled to see the WA state data.
---

Sea-Tac International Airport Statistics
Operated by the Port of Seattle, Seattle-Tacoma International Airport (SEA) is a top-ten U.S. airport, serving 51.8 million passengers and 453,549 metric tons of air cargo in 2019. With a regional economic impact of more than $22.5 billion in business revenue, SEA generates more than 151,400 jobs (87,300 direct jobs), representing over $3.6 billion in direct earnings and more than $442 million in state and local taxes.
---
---
ADARA
Adara aggregates the data from all direct and third parties to show the relative future bookings volume (of flight and hotel bookings). They also show bookings relative to particular vertical sectors (business vs. leisure travelers or solo vs. family travelers). This data will be updated daily. *I have attached the most current WA state report and US report from Adara, they update these and send them to me each week.

Washington State - COVID-19 Travel Impact (Updated February 19, 2021)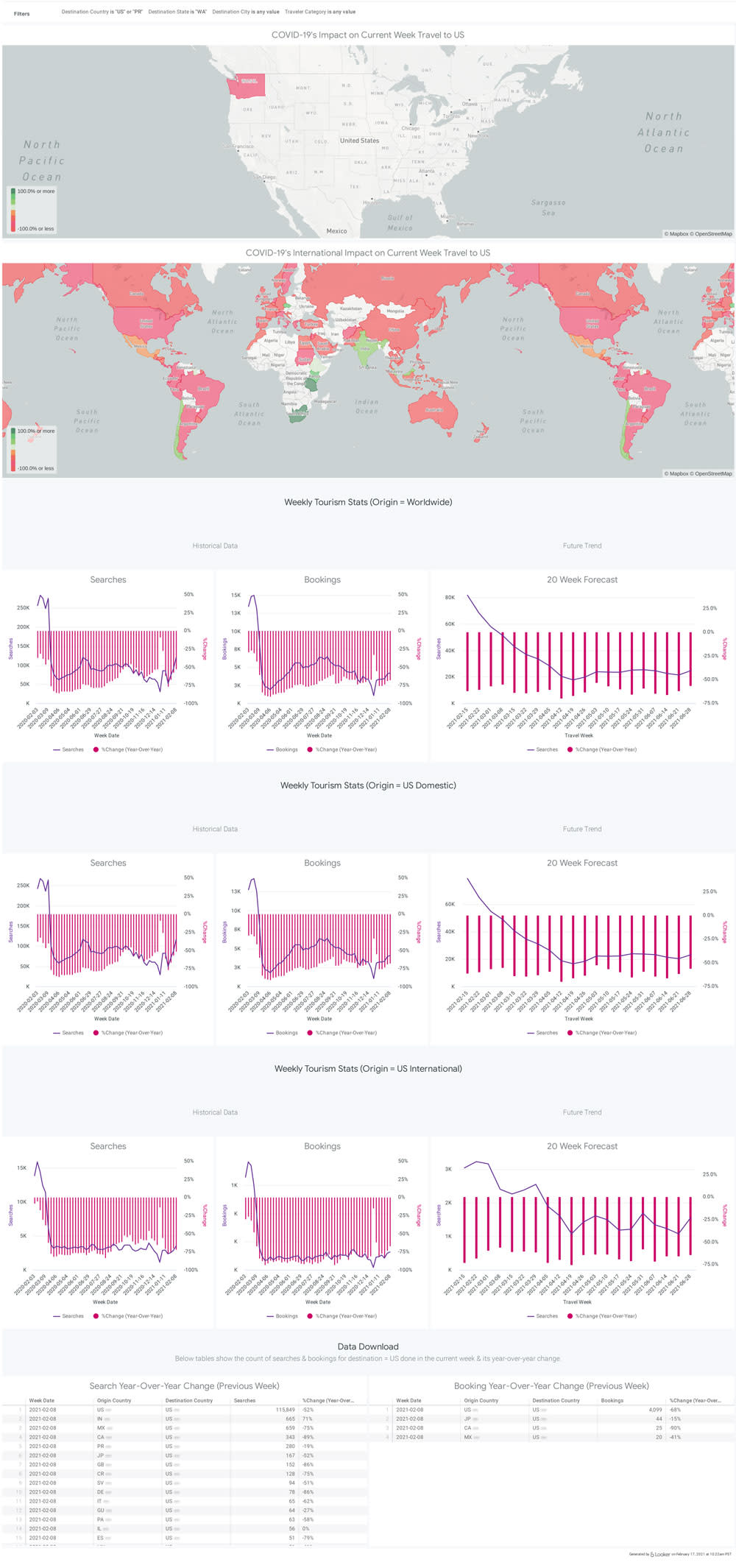 United States - COVID-19 Travel Impact (Updated February 19, 2021)