Fall Activities in Bellevue
The crisp cool air, and golden rays of sunlight dance on red leaves. There's a faint smell of cinnamon and excitement that lingers everywhere, for fall is finally here! In Bellevue, WA, there is a seamless transition from one gorgeous season to another, and Summer to Fall is no exception. Although we are sad to see Summertime go, we are excited for all the fun Fall activities Bellevue has to offer! Bellevue's central location makes it the perfect base camp for visitors looking to explore Washington this fall. Here are some fun things to do this fall guaranteed to bring on all the fall feels.
Here are just a few ways to celebrate the season's newest colors in Bellevue. For a full lineup, visit our events calendar!
---
Outdoor Fall Activities- Pumpkin Patches, Apple Picking, and Corn Mazes
Fall is the time for harvesting and enjoying nature's bounty before winter sets in. Bellevue and the surrounding areas have a rich agricultural history that sets the stage perfectly for quintessential autumn with brightly colored leaves, heaping baskets of apples, rows of pumpkins, and mazes of corn. The best part about exploring the fall farm activities, is that there is usually delicious treats like kettle corn, candied apples, and cider involved!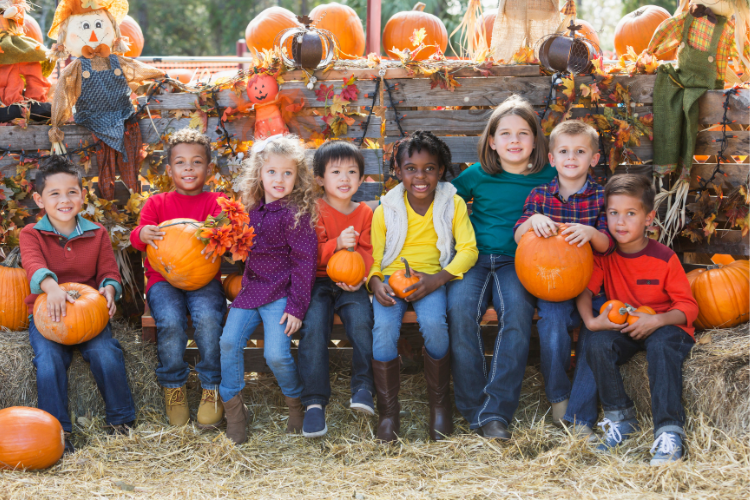 A seasonal Bellevue tradition, the Kelsey Creek Farm Fair is happening on Saturday, October 1, 2022 from 11-4 pm celebrating everything the fall season has to offer. Fun, family activities including crafts, inflatables, entertainment, tractor rides, and vintage tractor displays will be on full display. Entry to the fair is free and costs vary for food and activities. Complimentary shuttles will run from Wilburton Park and Ride and Bannerwood Sports Park.  For more information, please email kelseycreekfarm@bellevuewa.gov.
Apple picking at Swan Trails Farm
Swan Trail Farms has a Farm Festival that runs from September 24-October 31st. Just 40 minutes North of Bellevue, the farm offers U-pick famed Cosmic Crisp Apples, a petting farm, Washington State corn maze, a pumpkin patch, cider mill, and more!
Remlinger Farms
35 minutes East of Bellevue, Remlinger Farms has a sizable Fall Festival that runs for six consecutive weekends during the season: Starting September 24th and 25th, then the weekends of October 1st and 2nd, 8th and 9th, 15th and 16th, 22nd and 23rdand finally concluding on the 29th and 30th. Enjoy the U-pick pumpkin patch, canoe rides, the giant slide, and pumpkin pie spiced mini donuts.
There are also many pumpkin patches near Bellevue! Some of the closest ones include:
---
Where to See the Fall Leaves in Bellevue:
Fall is the perfect time to plan a hike: The temperature is cooler, the trails are less crowded and the leaves are changing colors! Leaf-peeping is a must on any Bellevue autumn itinerary.
For the urban hikers:
Bellevue's parks, trails, and forests are bursting with colorful foliage! Located near downtown, the Bellevue Botanical Garden offers visitors 53-acres of gardens, meadows, wetlands, and woodlands to explore picturesque fall colors. The Gardens are free and open from dawn to dusk every day!
Or, if you're looking for an all-day adventure, the Lake to Lake Greenway Trail offers nearly 100 miles of hiking terrain from east to west, connecting Lake Sammamish to Lake Washington. Wind through boggy wetlands, towering forests and historic farms across nine parks throughout Bellevue.
Other nearby gorgeous trails with fall colors include: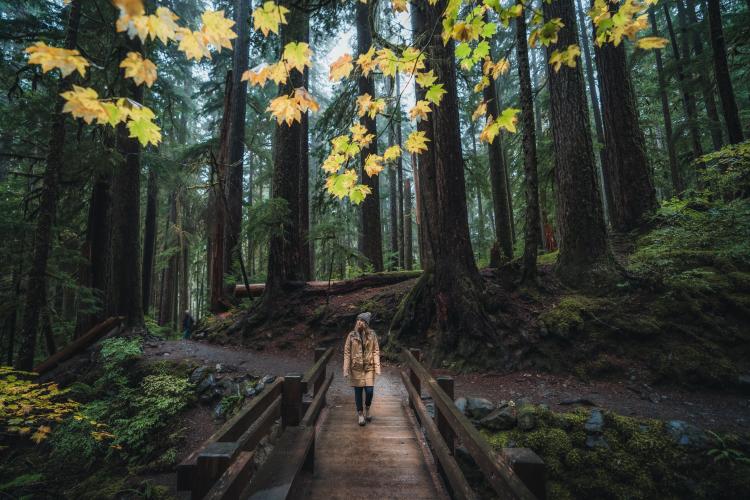 ---
For the thrill-seekers:
Bellevue is an ideal basecamp for thrill-seekers wanting to explore three different national parks. Venture through the fall foliage of the North Cascades National Park during the day and coming back to an array of dining options at night. Less than 2 hours away, Mount Rainier National Park is famous for the iconic peak that is a staple of the Washington landscape and provides hiking trails ascending to the more than 14,00 feet above sea level.
How to get there: Evergreen Escapes offer several day-trip excursions leaving from Downtown Bellevue! Or you can sign up for a course on fall day hikes and backpacking in the area from REI!
---
Want to check out the latest looks for fall? Bellevue is the place to be with Bellevue Fashion Week is on October 7-8, 2022.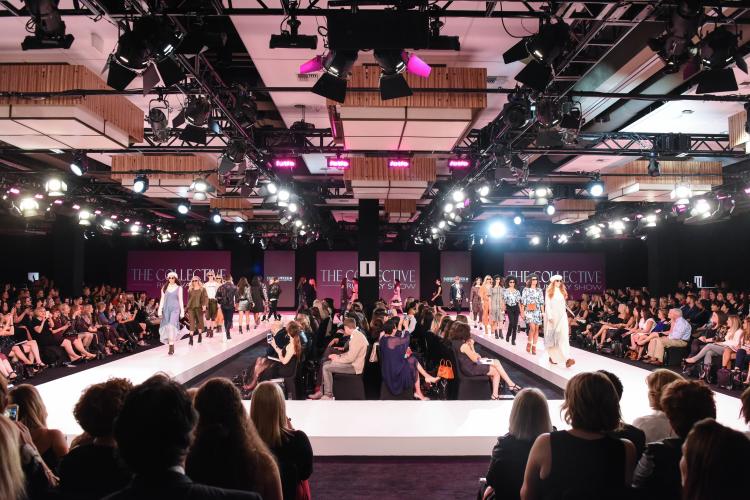 This annual event presented by The Bellevue Collection delivers an intriguing experience to fashion-forward, contemporary, and luxury shoppers. Clear your calendar for exclusive runway shows, fall fashion trend reports and demonstrations, chic parties, and irresistible shopping experiences. Enjoy the unique style of local designers at the Independent Designer Runway Show where these up-and-coming Northwest designers square off in an ultimate runway showdown. Posh Party Trend Show features a high energy runway of must-have Fall trends and a chic pre-party with beauty tips and photo booth fun.
And this year, The Bellevue Collection introduces The Collective Runway Show, featuring premier brands, and innovative designers. For those interested in finding the perfect fit and look for this fall, the Trend Take Over Workshop features fashion professionals and style consultants that can help you find what works best for you. For those in the Fashion space or interested in the industry, we highly recommend attending What She Said for an intimate panel discussion on the shopping marketplace and women-owned brands
---
An Artful Autumn!
Looking to bring more color and fun to the fall season? Bellevue has some great exhibits and performances that are sure to inspire.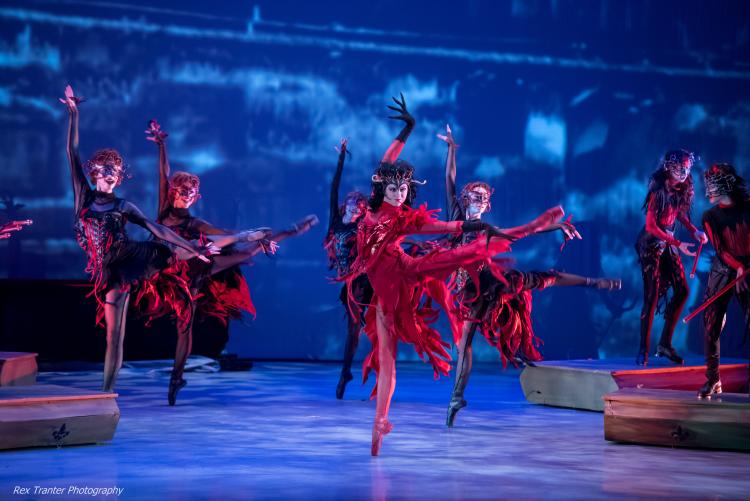 Phot credit: Rex Tranter
Dracula
The cult classic Dracula returns to the Meydenbauer stage for a two-night showing from October 27-28. Presented by the International Ballet Theatre, the performance features fanciful floating set pieces, undying love, dark drama, and a little bit of humor. This spooktacular performance is a must-see on our list, and recommend purchasing tickets soon!
Michelangelo's Sistine Chapel: The Exhibition
Rome has come to Bellevue! Instead of glancing up at the 60-foot ceilings to catch a glimpse of the masterpiece, the incredible Michelangelo's Sistine Chapel exhibit allows viewers to get up close and personal with renditions of the famous Vatican frescos. See the Creation of Adam and the Last Judgement with stunning clarity and walk away enlightened by about one of the world's greatest masterpieces.
Pacific Northwest Indie Folk Exhibit
The Bellevue Arts Museum has a new exhibition that is sure to spark the imagination of viewers and shed light on the pre-industrial cultures' histories in the Pacific Northwest. The New Art and Sounds from The Pacific Northwest: Indi Folk exhibit runs from September 16, 2022 - January 29, 2023. Other exhibits on display are the Spirit! And Laboratory for Other Worlds.
---
Fall Festivals
The Pacific Northwest is made of a rich tapestry of cultures and traditions. Fall is a great time to explore and learn about the different cultures that make our region so beautiful This year we have multiple festivals that celebrate time-honored traditions and highlight our different cultures.
Issaquah Salmon Days
October 1 & 2 | Issaquah, Washington
Just 15 minutes east of Bellevue you'll find yourself in the neighboring City of Issaquah where the fabled Issaquah Salmon Days takes place on October 1 & 2.  What initially began as an art show to celebrate the miraculous return of salmon grew to become a marketplace for more than 270 on-site artists selling their handcrafted art pieces to a crowd of more than 180,000 people. This award-winning fall season kick-off event has grown to become an incredibly popular celebratory event that combines arts, culture, and entertainment for an incredibly enjoyable experience.
Seattle Latino Film Festival
October 7-15 | Bellevue & Seattle
This incredible film festival is great for Spanish speakers and non-Spanish speakers alike. The Seattle Latino Film Festival is running from October 7-15 and coincides with National Hispanic Heritage Month. The Meydenbauer Center Theatre will host the showing of Spain, The First Globalization on Wednesday, October 12 at 7:00 PM. Be sure to purchase tickets ahead of time.
Japan Week at Bellevue College
September 24-30 | Bellevue
This year, Japan Week at Bellevue College will be held on September 24-30, 2022. On the final day of Japan week, the Japanese festival, "Matsuri" will be held. This free and public festival runs from 10am – 5pm and will include a flurry of games, music, workshops, and activities, all dedicated to celebrating Japan's rich culture and history.
Enjoy authentic Japanese food while shopping at the flea market or take in a music or dance performance; try your hand at calligraphy or participate in the cosplay contest. Like karaoke? Show off your talent at the festival! With numerous activities for all ages, the Japan Week Festival is your chance to learn, embrace and experience the Japanese culture.
---