A Day of Dining Delights at The Bellevue Collection...
Are you craving crispy carnitas tacos, or how about some fire Korean fried chicken? Or maybe chomping down on a juicy smash burger with its irresistible crispy edges sounds like the perfect indulgence. Luckily for those on a quest for deliciousness, Bellevue is the place where you can fulfill all these cravings with ease. Especially with the re-opening of the popular Lincoln South Food Hall in The Bellevue Collection. The city has been steadily gaining its reputation as a robust foodie destination in Washington and features a thriving and diverse dining scene for all budgets. And these new restaurant additions, Bellevue became an even more mouthwatering destination for foodies and on-the-go eaters alike! 
We all like a fancy night out, but when traveling, sometimes it's best to indulge in easy dining to return to the fun quicker. The newly re-opened Lincoln South Food Hall offers precisely that delicious food that gives you a taste of Bellevue's thriving dining scene in one convenient location. Whether you're pressed for time because you want to make your tee time at Social Forum House's Top Golf Suite or you want to get back to your shopping spree at the Bellevue Collection's 200 shops, the new Lincoln South Food Hall is a great place to dine at when visiting Bellevue.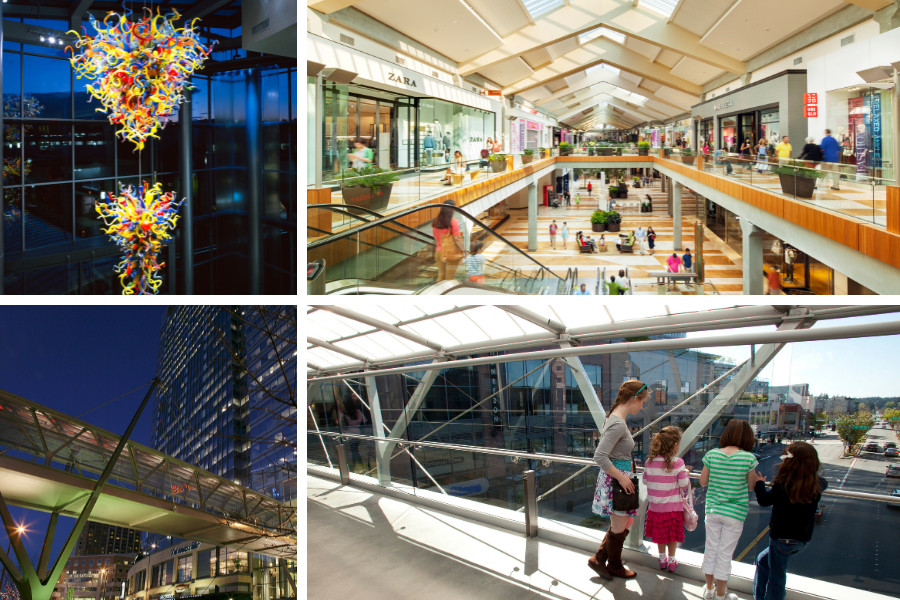 The Lincoln South Food Hall: A Feast for the Senses
The Lincoln South Food Hall, located on the second floor of Lincoln Square South, features five new restaurants that add a fresh, bold, and local touch to the Bellevue culinary scene:
Burbs Burgers: Opening in early July, this classic smash burger joint by Chef Joshua Henderson of Huxley Wallace Collective promises to be a carnivore's delight.
Drip Tea: A bubble tea café offering high-quality drinks with street/fashion derived namesakes and a premium soft-serve menu with seasonal flavors. It's the perfect place to relax and refresh.
Seoul Bowl: Offering the vibrant flavors of South Korea in the form of healthy, fresh, and delicious Korean BBQ Bowls. Made from wholesome, ethically-farmed ingredients, Seoul Bowl serves a touch of Seoul in every bite.
West Coast Tacos: Bursting with flavor, these street tacos are sure to satisfy your cravings. This go-to destination is the newest venture from the owners of MIX Poke Bar.
Wonderbowl: A gluten-free option serving grain bowls packed with nutrient-dense ingredients and tantalizing sauces. You can build your bowls with warm quinoa or rice, free-range chicken, vegetable protein, house-made sauces, and fresh raw produce.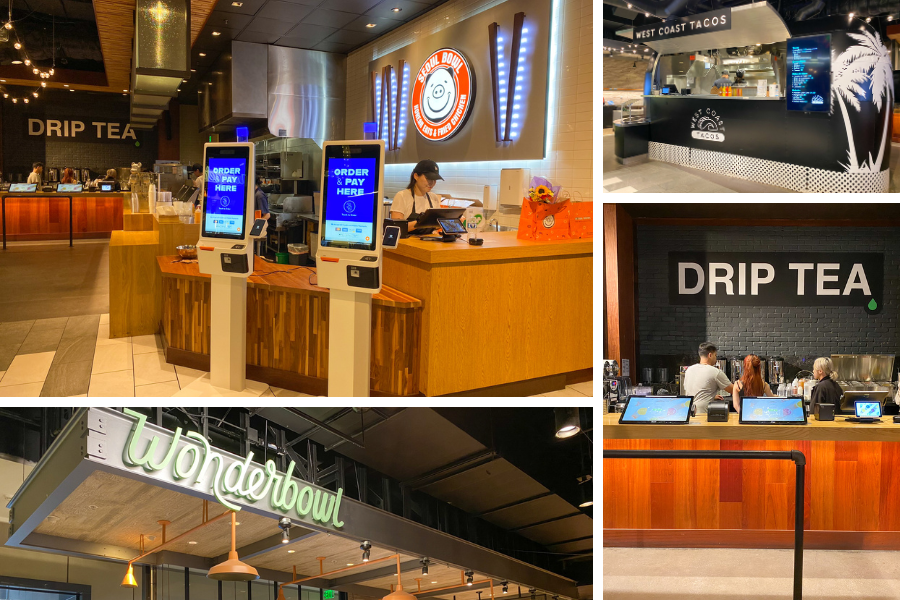 Explore More at The Bellevue Collection
The fun doesn't stop at food! The Bellevue Collection offers a variety of experiences that make for a full day of entertainment. Here's how you can spend your day:
Bellevue Arts Museum: Start your morning at the Bellevue Arts Museum. Open from 11 am to 5 pm, Wednesday through Sunday, it's a treasure trove of art exhibitions, events, and workshops​.
Lucky Strike Arcade: After a dose of culture, head over to the Lucky Strike Arcade. Bowl a few frames, play some arcade games, and enjoy their delicious cocktails and late-night menu. Remember, it's all about the fun​!
Social Forum House: Want to try your hand at miniature golf? Visit the Social Forum House, which features a uniquely themed Par1 Minigolf, along with a Topgolf Swing Suite and a premier nightlife destination, Rockwell Sound Lounge. Enjoy their sustainable and environmentally conscious food options, and don't miss their happy hour from 5 pm to 7 pm, excluding Tuesdays when it's all day.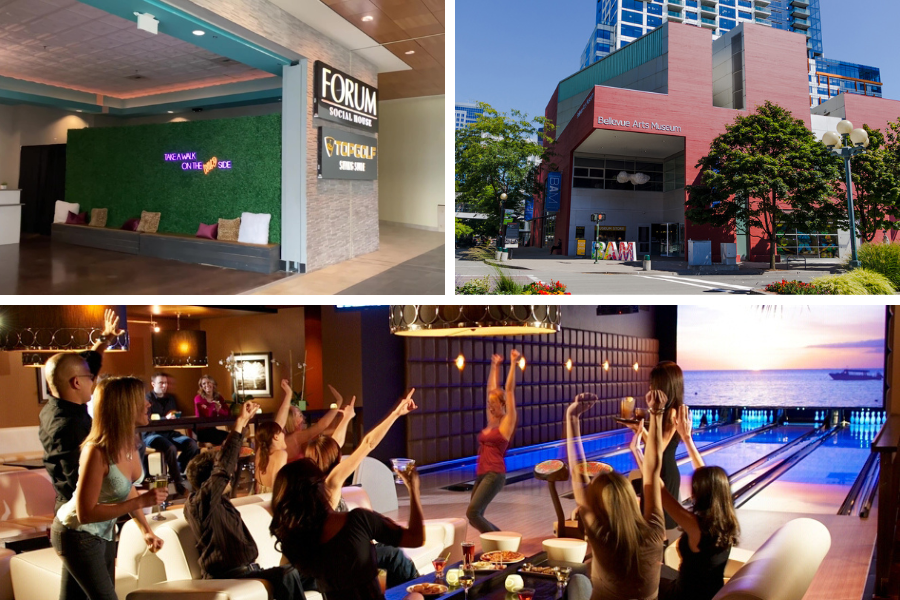 Whether you're looking to shop, play, or tantalize your taste buds, Bellevue is ready for you. Grab a quick bite at the new food hall, check out our amazing museum, play at our exciting arcades, or simply enjoy a round of golf - Bellevue has something for everyone. Welcome to Bellevue, where every day is a new adventure.
Frequently Asked Questions about The Bellevue Collection
What is The Bellevue Collection? The Bellevue Collection is a large shopping, dining, nightlife, and entertainment center in Bellevue, Washington. It comprises three developments - Bellevue Square, Bellevue Place, and Lincoln Square, and hosts over 200 shops, 50 restaurants and entertainment venues, 1,100 luxury hotel rooms, and 12,500 free retail parking spaces.
What is the Lincoln South Food Hall? The Lincoln South Food Hall, part of The Bellevue Collection's Dining District, is a dining venue with five new restaurants. It offers a variety of casual dining experiences and is perfect for food enthusiasts on the move.
What new restaurants are in the Lincoln South Food Hall? The newly reopened Lincoln South Food Hall features five new restaurants: Burbs Burgers, Drip Tea, Seoul Bowl, West Coast Tacos, and Wonderbowl.
What is the Bellevue Arts Museum? The Bellevue Arts Museum is a museum in Bellevue, WA, that showcases art, craft, and design. It's open from Wednesdays to Sundays from 11 am to 5 pm​.
What entertainment options are available in Bellevue? Bellevue offers a wide range of entertainment options. The Lucky Strike Arcade offers bowling, arcade games, and dance floors​​. The Forum Social House offers a mini golf course, a virtual golf experience, and a nightlife destination with world-class DJs​​.
What is the nightlife like in Bellevue? Bellevue offers a vibrant nightlife with venues like the Lucky Strike Arcade and Forum Social House. They have dance floors, world-class DJs, and a variety of games and activities. The Forum Social House is 21+ after 10 pm daily​.
What parking options are available in Bellevue? There are 12,500 free retail parking spaces available in The Bellevue Collection.