The St. Jude Rock 'n' Roll Washington running series is back and has found its new home in the sparkling city of Bellevue, WA. Bellevue is excited to host the influx of runners for the first time, as they trek through its clean streets this Labor Day Weekend. Runners will enjoy gorgeous views of a stunning skyline, evergreens trees, and Mt. Rainier for their race backdrop. After running the race, not only will runners feel accomplished, but they'll be re-energized by the restorative spirit of the Pacific Northwest.
From beginning to end, the St. Jude Rock 'n' roll running series is designed to provide folks with access to fun ways to stay active and connect. Before the event, participants will receive admission to the two-day Health & Fitness Expo, where they can find the latest and greatest in all things running. During the race, spectators will enjoy rocking out to live music on the sidelines and hanging out at the Downtown Park while they wait for finishers. After the race is over, Bellevue's local eateries will be ready and waiting to help runners refuel.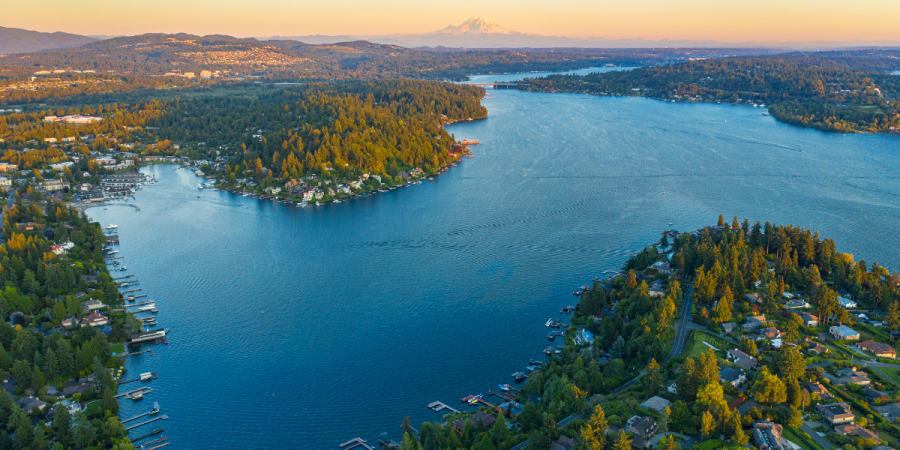 When is Rock 'n' Roll Washington?
The St. Jude Rock 'n' Roll Washington event is scheduled for Labor Day Weekend, September 3-4, 2022. There's no better time to visit Bellevue than in the summer; runners will cruise down the streets during one of the most beautiful seasons and enjoy the great weather, shining sun, and relaxed summer atmosphere. Not only is the weather great in Bellevue, but visitors will enjoy access to seasonal activities like kayaking, zip lining, and hot air ballooning. Check out our list of things to do in Bellevue to help you make the most out of your trip to Bellevue, WA!
When does the Rock 'n' Roll Washington Half Marathon race begin?
The race begins bright and early on Sunday, September 4, 2022, at 6:30 am. Be sure to grab a coffee and be ready to run!
Date: September 4, 2022
Start Time: 6:30 am
Time Limit: 4 hours *Times subject to change*
Where does the Rock n Roll race start?
The Rock 'n' Roll Washington route has been finalized. The race's starting line is at Downtown Bellevue Park and the finish line is at Downtown Bellevue Park. The route takes runners on a gorgeous urban tour of the city of Bellevue. The route loops around the Bellevue neighborhoods; between the skyscrapers of Downtown, under the glorious trees of Bel-Red Road, past Kelsey Creek Park, and down Main Street to return to Downtown Bellevue Park.
Start Line: Downtown Bellevue Park
Finish Line: Downtown Bellevue Park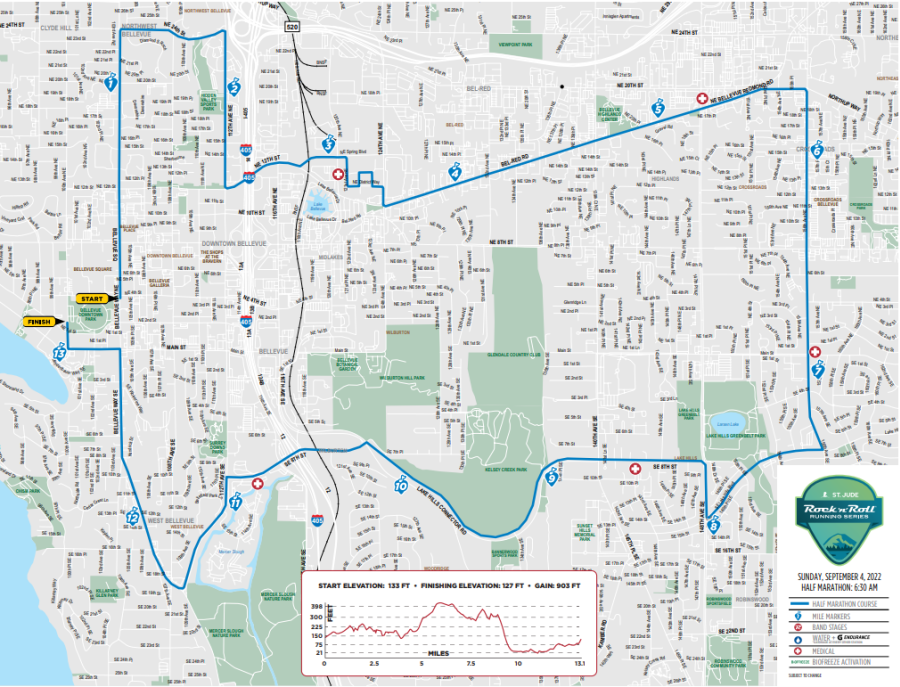 Where are the road closures for Rock 'n' Roll Washington?
Bellevue's planners did an incredible job at mapping out the route and making sure that the closures affect traffic minimally. Here is a detailed list of the road closures throughout Bellevue for the race. Check out the full list of the rock 'n' Roll Washington half marathon road closures for Sunday, September 4th, 2022.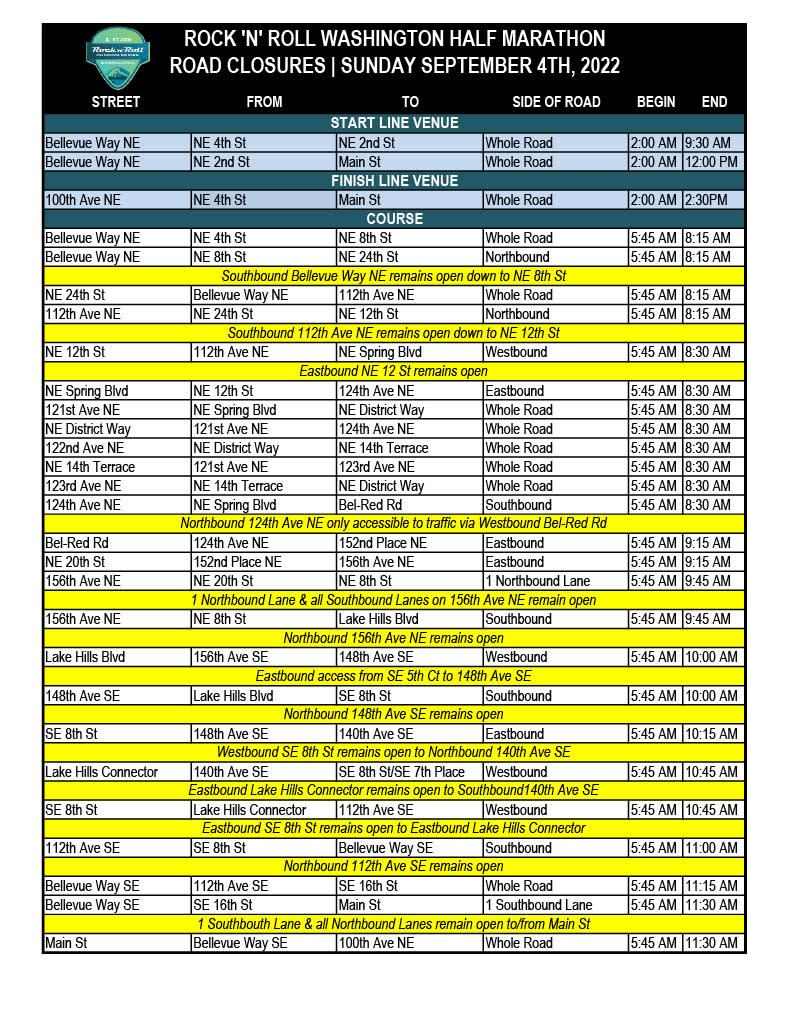 How many races are there for Rock 'n' Roll Washington?
There are three separate distances that will take place during the Rock 'n' roll Washington:
Half Marathon: Sunday, September, 4, 2022.
5K: Saturday, September 3, 2022
KiDS ROCK: Saturday, September 3, 2022
Distances include an 80ft toddler trot for ages 1-3;  1/2 mile for ages 3-8 and a one mile for ages 5-17.  One parent/guardian is allowed to run with the child during the fun run.  The adult must have a matching bib with the child in order to be on the race course.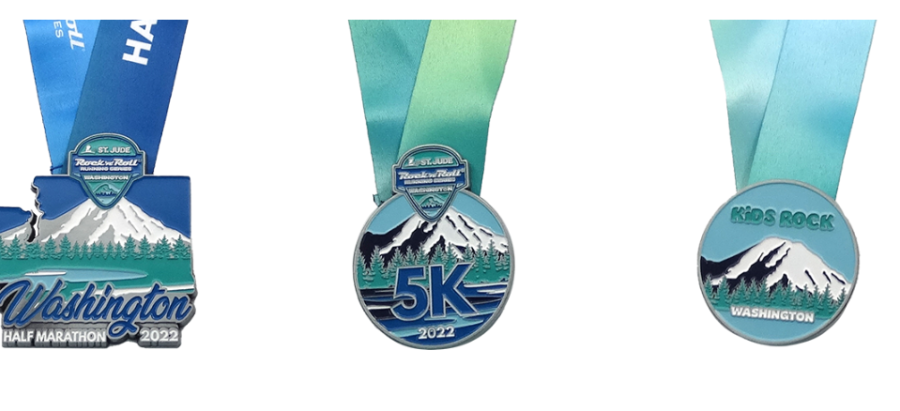 Runner's Perk Map
We've created an interactive map for the runners and attendees to help find the businesses participating in the Runner's Perks Program, as well as, awesome restaurants, bars, cafes, and attractions in Bellevue, WA. Access the Runner's Perk Map.
How to get involved in Rock 'n' Roll Washington
The St. Jude Rock 'n' Roll Washington event represents a culmination of hard work from Visit Bellevue, The City of Bellevue, and the Rock 'n' Roll team. The event offers many benefits for the city's growth and economic development. The event, and other events like it in the future, are a result of Bellevue's strategic Economic Development and Destination Development plans. Events like this help showcase Bellevue as a standalone destination for tourism. There are many great ways for the people and businesses of Bellevue to get involved in the wonderful event!
One of the best ways to get in on the action is to participate in one of the races! Participants can walk or run and still have fun. Registration for Rock 'n' Roll Washington is now open!
Corporate Wellness Challenge Discounted Pricing
Rally your whole crew to show up! Businesses can get their employees enrolled to participate through a variety of corporate pricing options that include personalized vanity bids and corporate team challenge awards. Email Kaitlin.heck@ironman.com  for questions and check out the Rock 'n' roll Washington corporate pricing overview.
Sponsorship opportunities
Promote your company or product through various creative activation opportunities. To learn more about sponsorship opportunities, email Kaitlin.heck@ironman.com.
Volunteer opportunities
Even if you don't run, you can still participate by showing your support for the City of Bellevue in the form of volunteerism. We are looking for volunteers to serve as expo greeters, on-course water distributors, medal distributors, aid stations, and more. There are plenty of opportunities to go around! Go to the Rock 'n' Roll Washington Volunteer sign-up page to register.
See you at the finish line!
However you choose to participate, Visit Bellevue is excited to welcome you to our beautiful city. The Visit Bellevue crew will be at the events helping participants find fun things to do in Bellevue and offering insights on where to dine, stay, and play. We hope you have a great run!