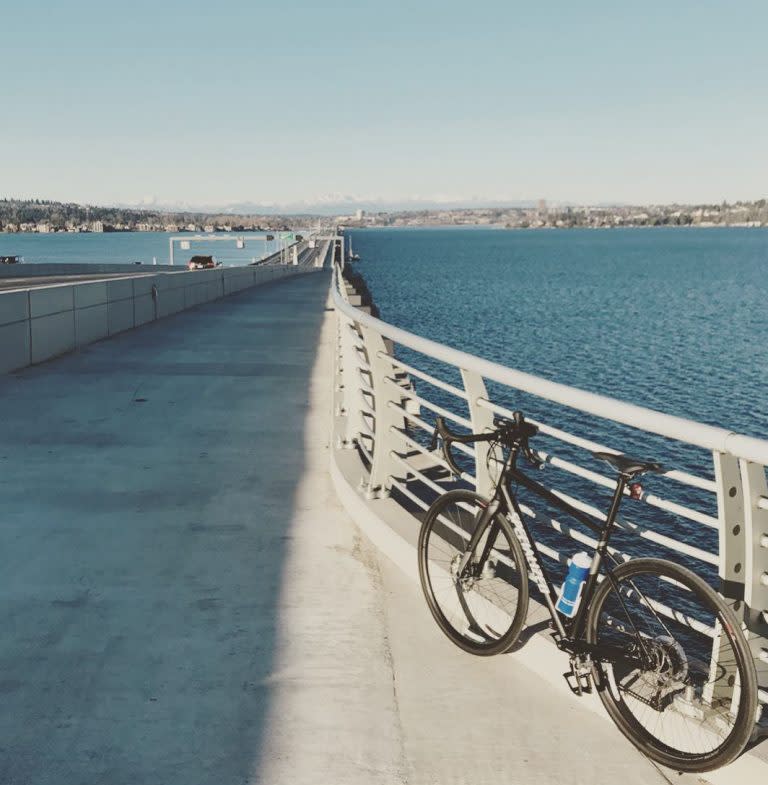 Whether visiting Bellevue for business or pleasure, we know how important it can be to keep up a fitness regimen. Spring is the perfect time to explore the city's pedestrian pathways whether for a stroll or training for a race.
For a quick two-mile route starting at the Hyatt Regency, follow Bellevue Way south toward Bellevue Downtown Park tracing the park's perimeter until the south end, then veering around the inner loop before exiting on the southeastern border and heading back to the Hyatt on Bellevue Way. (Note: Bellevue Downtown Park's circular promenade is 0.5 miles around making it easy to add extra laps to the route.)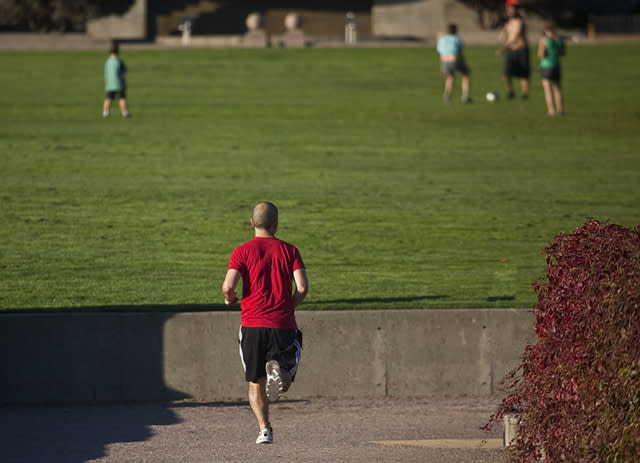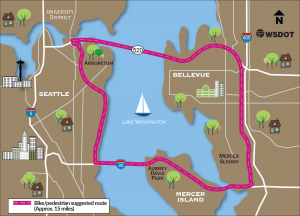 For a longer and more scenic run through the city's neighborhoods past Overlake Golf & Country Club and Medina Park, try this six-mile round trip route. Head west on 8th Street NE from Bellevue Square for nearly a mile before the road bends right becoming 1st Street NE, then bends left becoming 12th Street NE. Turn right on Evergreen Point Road and follow until reaching the Evergreen Point Park & Ride at mile three. There is a viewpoint of the Olympic Mountains and the University of Washington facing west over the 520 bridge. Or, if you are more ambitious, try the 15 mile loop shown in the map above that crosses Lake Washington twice and ends up right back in Bellevue.
And if the weather prohibits outdoor activity, Bellevue is home to numerous fitness studios ranging from barre, cycling, and yoga to traditional gyms. Here's a list of some that offer drop-in and visitor rates as well as some group buy-out options.
---
Head to the Barre
With over 120 studios nationwide, barre3 sees its share of visitors, according to Bellevue studio owner Anna McEvers. The studio features floor-to-ceiling windows overlooking the grassy green expanse of Ashwood Playfield across from the Bellevue Public Library. Known for its toning repetition of small muscle movements, a barre3 workout hits all the right spots. Visitors can register for drop-in classes online or in the studio. At Pure Barre, out-of-towners are welcome to drop in for a single class ($23) with specials for members of Pure Barre in other locations. Private classes can be booked for a $100 flat rate. ClassPass accepted at both Barre3 and Pure Barre studios.
The Fitness Cycle
Spin away the calories at SoulCycle BLVU, a full-body indoor cycling workout set to a high-energy beat. The candle-lit darkened room and rhythm-based program provide a meditative experience designed to benefit the body, mind, and soul. "We call it a cardio party. With every pedal stroke, our minds clear and we connect with our true and best selves…our riders share a Soul experience," says Camilla Whitmore, SoulCycle field marketing manager. SoulCycle offers a special 2-for-1 promotion for new riders called the First Time Pack for $28. At Flywheel, the focus is on performance-tracking tech that allows guests to measure progress over time. In addition to a competitively-edged spin class, the FlyBarre class incorporates light weight training and core exercises for a total-body sculpting effect. Flywheel offers an introductory drop-in credit of $15 for first-timers – please create an account online before dropping in.
(Email soulbellevue@soul-cycle.com for information on advance group bookings and private classes)
The Healthy Way of Life
Opening at The Shops at The Bravern in mid-April, Life Time Fitness offers a full array of fitness classes with five specialized studios, a 10,000-square foot training floor, a boutique day spa and a healthy-fast-casual eatery. Members of a Diamond- or Diamond Premier-level club elsewhere in the country can use their membership at the Bellevue location. Otherwise, Life Time offers 1- and 5-day guest passes for $35 and $150, respectively.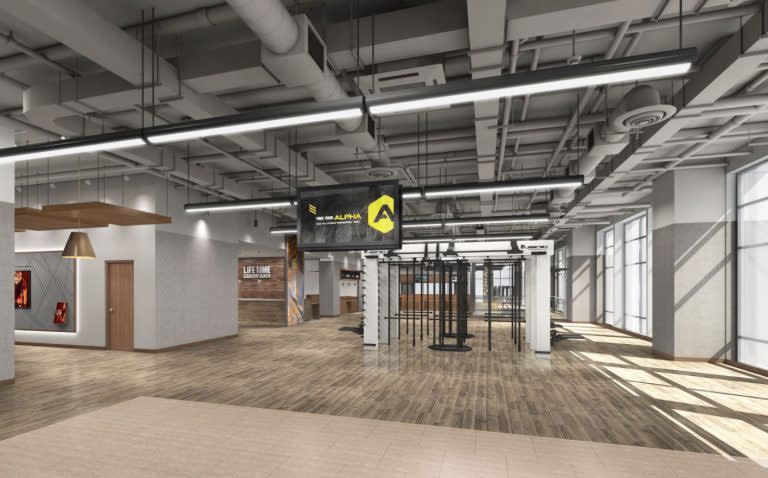 Hotel Fitness Centers
Many of the local hotels boast superior-grade gyms. Hyatt guests enjoy complimentary access to its Stayfit Fitness Center including a wide selection of gear like strength bands, box jumps, kettlebells, battle ropes, balance balls, and free weights. Stay connected with a Peleton bike workout at The Westin or make your own full-body routine utilizing the gym's TRX suspension trainers, kettlebells, strength bands, and more. The fitness center at AC Hotel by Marriott is spacious with several treadmills, elliptical machines, free weights, and balance and medicine balls.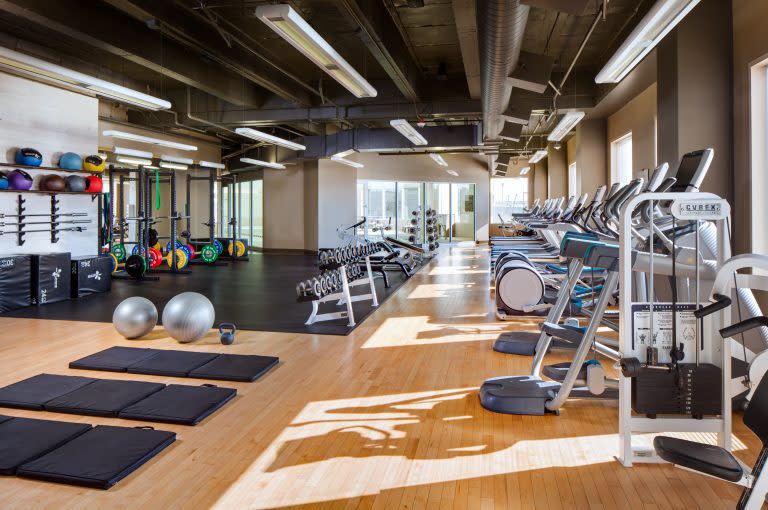 Images courtesy of Lifetime Fitness, Hyatt Regency Bellevue.