Where Bellevue meets Lake Washington creating the longest stretch of public waterfront in Bellevue. With a quarter mile of waterfront, the seven-acre park provides awe-inspired access to Meydenbauer Bay and Lake Washington right off Bellevue's bustling downtown. There is nothing quite like a paddle in and around Meydenbauer Bay or a stellar view of the Olympic Mountains, Cascade Mountains, Mount Rainier, or the Seattle and Bellevue skylines. SUP rentals available at the REI Boathouse seasonally.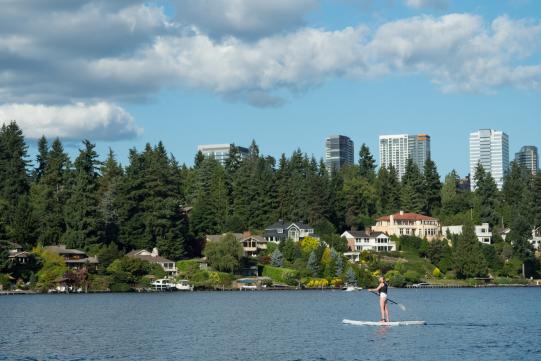 Mercer Slough
The Mercer Slough Nature Park is a 320-acre wetland in Bellevue lushly populated with ferns, shrubs, flowers, several varieties of berries, distinctive wooden boardwalks, and of course a paddle through nature. SUP's can explore the 2.6-mile water trail that flows from Lake Washington through the length of the park. Access just south of the Bellevue Light rail park & ride or from Enatai Beach Park. SUP rentals available at Enatai Beach from REI seasonally.
Newcastle Beach Park
Bellevue's largest beach park. The sprawling lawn, colorful playground, and plethora of picnic tables make this a popular place for family gatherings, swimming, and lake Washington access. The 300-foot floating dock demarks the large, protected swimming area and provides a great launch spot for SUPs. Rentals are not available here, so bring your own to explore the Newport Shores area or paddle north toward Mercer Slough, a mere nautical mile away.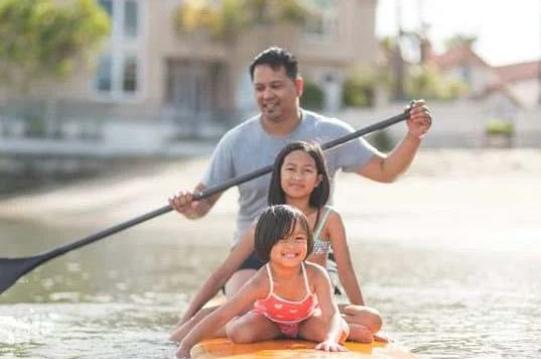 Medina Beach Park
Medina Beach Park is a small but scenic park on lake Washington with great views of Seattle skyline and Mount Rainier. The Park features a beach, swimming, a large dock both are great launch spots for SUP's. You will marvel at the scenery and homesteads the Medina / Bellevue waterfront homesteads.
Explore Bellevue's Eastern side of Lake Sammamish at the banks of Tibbets Beach and Sunset Beach which showcase one of the area's largest freshwater beaches at Lake Sammamish State Park. This 531-acre state park boasts nearly 7,000 feet of shoreline and watercraft launch area. SUPs can be launched or rented at Tibbets Beach.
Hunts Point / Yarrow Bay
Yarrow Bay Marina is located where Bellevue meets Kirkland on the beautiful shores of Lake Washington. They are a full-service marina so they do offer SUP rentals and have many amenities, restaurants, and cafes to enjoy. SUP's can paddle the bays and shores while getting incredible views of the Olympic Mountains to the West and Cascade Mountains to the East.
Idylewood Park
This 17-acre park is located on the northwestern shores of picturesque Lake Sammamish and features a swimming beach, including a bathhouse and restrooms. Park goers can launch SUP's from the park's small ramp, spread out and play a game in the large open space, fish from a pier or the beach, or explore Idylwood's playground area. This is also a great access point for the Sammamish River (Marymoor Park to Lake Washington).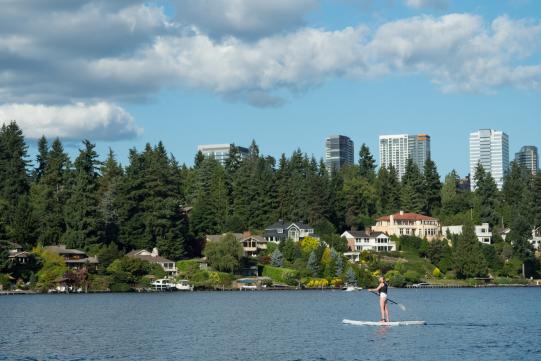 Luther Burbank Park (Mercer Island)
Located on the northeast end of Mercer Island overlooking Bellevue, Luther Burbank is a large park of 77 acres with three-quarters of a mile of Lake Washington waterfront. Much of the park has been left undeveloped to foster a variety of wildlife, including 135 species of birds and waterfowl. Many of these animals live in the wetlands that occupy the north and south ends of the park. Car parking available at either the north or south parking lots and the Park provides a few great SUP launch locations.
Enatai Beach Park
2.5-acre park provides a gateway to Lake Washington. Enatai Beach Park provides both a quaint respite for basking in the sunshine and a wildlife adventure for those seeking to get their paddle on. SUP's can enjoy Lake Washington, Mercer Island, or the Mercer Slough providing views of Olympic Mountains, Cascade Mountains, Mount Rainier, or the Seattle and Bellevue skylines. SUP rentals available by REI seasonally.