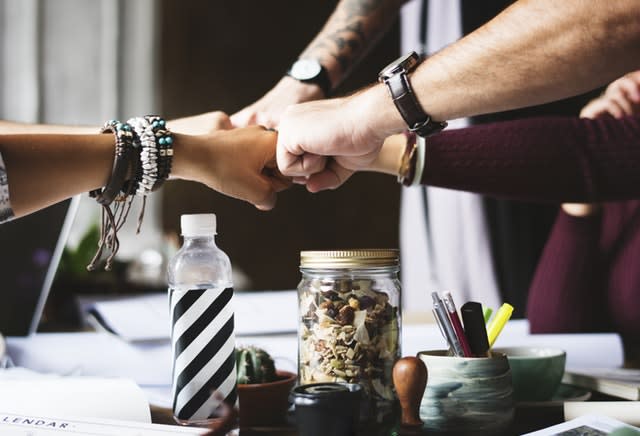 When you hear the term "team-building activity" what comes to mind? Most people have come to expect team-building to be an afternoon chalked full of adventure, bringing teams together.
The best news? Bellevue has your team-building adventures at the ready.
Bellevue and the surrounding areas offer a variety of fun and engaging team-building activities and experiences. When done properly, team-building activities can help build cohesion, trust, and accountability throughout workgroups all while having a blast. Take a look at some amazing venues and team-building experiences scattered throughout Bellevue and the surrounding region!
---
1. Bellevue Challenge Course
Outdoor teambuilding? Yes, please! In a partnership between the City of Bellevue and Northwest Teambuilding, the Bellevue Challenge Course & Zip Tour is a great opportunity for your team to break a sweat together as they work through the course, all while taking in the beautiful natural surroundings. With high and low challenge courses that can be customized to fit your group numbers, why not get wild in the city?
425.452.4240 | parks.bellevuewa.gov
---
2. Whisk

Teambuilding that tastes good? Look no further than Whisk in Old Bellevue! Whisk cooking school provides an interactive and collaborative setting where private classes, taught by a talented team of experienced chef-instructors, provide your team with a hands-on culinary experience. Cook, have fun and bon appetite! Depending on availability and course selection, Whisk can accommodate groups up to 22 people.
425.922.9575 | whiskcooks.com
---
3. Mox Boarding House

Mox Boarding House serves as a popular gathering place for gamers from all walks of life. Located on Bel Red Road, Mox Boarding House features an extensive game library, huge tournament rooms for daily events, and culinary delights to round out your stay. Choose from a number of unique private rooms like the Apothecary, the Library, or the Speakeasy, or just wander around enjoying the sights and sounds of a game store like no other.
425.326.3050 | moxboardinghouse.com
---
4. Stone Gardens Climbing Gym

Stone Gardens boasts over 21,000 sqft of climbing terrain and a tilting wall, belay and rappel ledges, and top out boulders. Reserve a private party room and buy out the climbing gym for 2-hour group climbing or bouldering sessions. For those looking to catch their breathe and relax for a moment, the party room offers space for eating and socializing. With climbing equipment provided and instruction from two experienced instructors, all that's left to do is climb!
425.644.2445 | stonegardens.com
---
5. KidsQuest Children's Museum (Recess on the Rocks)

KidsQuest Children's Museum is an exciting and unique event space in downtown Bellevue, perfect for small to medium size groups looking for a fun team building experience. KidsQuest's educational exhibits introduce children and adults alike to science, technology, engineering, art, and math through play and exploration. KidsQuest is capable of accommodating groups up to 200 people, with private spaces available for eating or socializing during your museum rental.
425.637.8100 | kidsquestmuseum.org
---
6. Reality Break Escapes

Reality Break Escapes offers a variety of custom teambuilding programs dedicated to re-energize and improve collaboration for groups all while having a fun time! With multiple themed escape rooms, teams will need to find clues and solve problems to escape the room while racing against the clock. Experienced event planners will work with you to help arrange the perfect team-building experience for your group.
425.577.6800 | realitybreakescapes.com 
---
7. Adventura Aerial Adventure Park
Just 15 minutes from Bellevue, Adventura Aerial Adventure Park provides thrilling outdoor climbing experiences with a variety of challenging obstacles, traverse activities, and zip lines. Adventura Consulting offers team-building activities and experience-based learning support to organizations looking for innovative ways to build cooperation and camaraderie among colleagues.
866.853.6083 | adventuraplay.com
---
8. Woodinville Wine Country

Work with Butler Transportation or Shuttle Express to host a custom wine and spirits tour for your group.  Woodinville is the hot spot for wine touring in Washington. New satellite tasting rooms, particularly from Walla Walla, are popping up left and right. In addition to mainstays like Chateau Ste. Michelle and Columbia Winery, Woodinville is now home to over 130 wineries, wine bars & tasting rooms. Woodinville boasts a fleet of limo transportation service providers who are more than glad bounce around different wineries in grand fashion.
425.287.3298 | woodinvillewinecountry.com
---
9. The Golf Club at Newcastle
The Rusty Putter, located at The Club at Newcastle, is an 18 hole putting course that is perfect for your next teambuilding event. Both golfers and non-golfers will enjoy a friendly competition with coworkers in a round of putting. Buyouts can get you an exclusive two-hour reservation of the course for up to 80 people!
425.793.5566 | newcastlegolf.com
---
Photos courtesy of Pexels, Bellevue Challenge Course (Credit Merrill Images),  Whisk Bellevue, Mox Boarding House, Stone Gardens Climbing Gym, KidsQuest Children's Museum, Reality Break Escapes, Adventura Aerial Adventure Park, Woodinville Wine Country, The Golf Club at Newcastle.