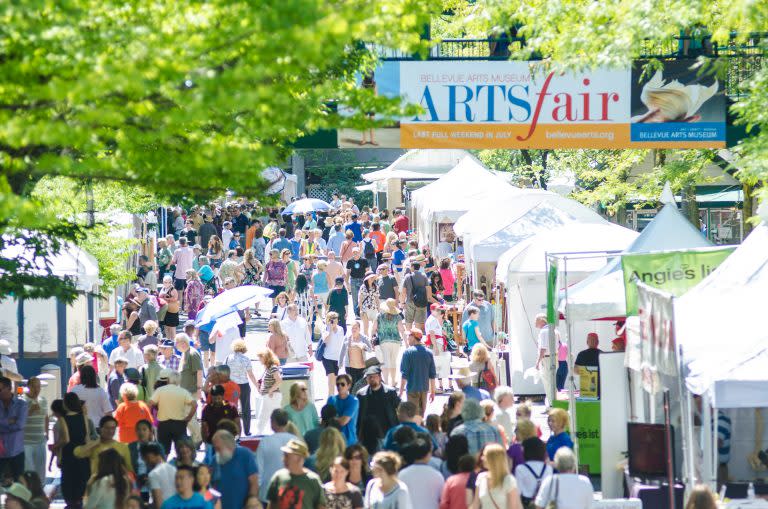 One of our favorite weekends of the year, Bellevue Arts Fair Weekend took center stage in Downtown Bellevue on Friday, July 27th through Sunday, July 29th, 2018! Each year, the Bellevue Arts Fair Weekend attracts more than 300,000 attendees to Bellevue for one of the Pacific Northwest's largest arts and crafts celebrations. This extensive guide will cover some basics tips for navigating the city during this busy weekend and will also provide information on hotels, restaurants, and things to do to help you plan the perfect weekend getaway in Bellevue, Washington.
---
Bellevue Square & Bellevue Arts Museum | (425) 519-0742 
Friday & Saturday: 9:30am – 9:30pm | Sunday: 10:00am – 6:00pm 
The Bellevue Arts Museum plays host to this award-winning arts & crafts festival in the Pacific Northwest. With a strong commitment to quality, handmade excellence, BAM ARTSfair supports designers, artists, and craftspeople at the local, regional and national levels. With over 300 inspiring artists showcasing their unique, handcrafted works of art, BAM ARTSfair showcases an eclectic mix of modern, traditional, and emerging artists, craftspeople and designers. Since 1947, BAM ARTSfair has been the annual gathering place for creators and community members and serves as a great way to connect to the world of art, craft & design.
In addition to this unique shopping experience, BAM ARTSfair offers free programming including BAM Exhibitions, KIDSfair, the Sound & Movement Stage, food trucks, and much more.
Parking Information & Directions to BAM ARTSFAIR: 
Parking is free for 3 hours at the Bellevue Collection with validation. (Find complete driving and parking directions to the Bellevue Collection here.)
Permit parking only in the Bellevue Arts Museum parking garage.
Valet service available at:
Bellevue Square: Northeast & Northwest Parking Garages on Level 1
Bellevue Place: Hyatt Regency Bellevue
Lincoln Square: Westin Bellevue
---
10300 NE 8th St. Bellevue, WA 98004 | (206) 363-2048 | info@bellevuefest.org 
Friday & Saturday: 10:00am – 8:00pm | Sunday: 10:00 am – 6:00pm
Celebrating its 34th year in 2018, The Bellevue Festival of the Arts features 175 of the most talented and popular artisans, musicians and craftspeople from the greater Pacific Northwest region and beyond. Produced by the Craft Cooperative of the Northwest, the festival is entirely organized by artists and supports a variety of local and global non-profit organizations with proceeds from the festival. The Bellevue Festival of the Arts remains a committed community partner and works with various local educators and features local non-profits in the festival. Located along NE 8th in the lot of Cost Plus World Market at 10300 NE 8th St. Bellevue, WA 98004.
---
6th Street, Bellevue, WA 98004 | (425) 453-3110
Friday & Saturday: 10:00am – 8:00pm | Sunday: 10:00 am – 6:00pm
Produced by the Bellevue Downtown Association, Bellevue's 6th Street Fair showcases the original work of over 100 artists of sculpture, jewelry, wood and glass work, home décor, fabrics and more. The fair features a street-side layout adjacent to the Bellevue Connection with convenient access to nearby freeways, transit center and parking. Various brick-and-mortar restaurants and food trucks are located in close proximity to the fair. 6th Street Fair is located next to the Bellevue Connection and Compass Plaza along NE 6th Street and 106th Avenue NE.
---
Things to Do in Bellevue
If you need a break from the Arts Fairs, Bellevue also offers the ultimate in shopping, dining, and cultural attractions, all surrounded by natural beauty and outdoor spaces. Just a few steps from the bustle of the Art Fairs is Bellevue Downtown Park, located between NE 4th and NE 2nd street just west of Bellevue Way. And if you want to explore further, miles of nature trails, public parks, and swim beaches are walking distance from downtown for a workout or unwinding. Numerous spas, museums, and art exhibitions are located in Bellevue.  Bellevue is your gateway to the entire Puget Sound Region.
Learn more about all the different types of activities in Bellevue.
---
Restaurants
Looking for a quick bite to eat between events? Or maybe a formal, sit-down restaurant when the night winds down? There are hundreds of restaurants in downtown Bellevue and much more across the city ranging from casual sandwich spots to 4-star chef-owned restaurants and well known national chains.
Click here to learn more about Bellevue's diverse range of casual to fine dining options.
---
Hotels
Bellevue, Washington's hotel accommodations include more than 5,500 guest rooms with options from luxurious 4-star downtown hotels to peaceful suburban retreats. Hyatt Regency, Westin, Hilton, Sheraton, Courtyard by Marriott, Hilton Garden Inn, Marriott Residence Inn and Seattle Marriott Bellevue are among the major hotel brands from which visitors can choose.
Click here for a complete list of Bellevue's hotels.
---
Traffic Notices & Street Closures
With some downtown streets shut down for the festival, travelers should expect some congestion. Street closure locations and times include:
100th Avenue NE, from NE 8th Street to NE 10th Street, will be closed in the southbound direction from 6am to 9pm on Thursday and from 5:00pm to 10pm on Sunday.
100nd Avenue NE, from NE 4th Street to NE 8th Street, will be closed in the northbound direction from 6am to 7am on Thursday and from 5pm to 10pm on Sunday.
102nd Avenue NE, from NE 8th Street to NE 10th Street, will be closed in both directions from 8am Friday to 9pm Sunday.
106th Avenue NE, from NE 4th Street to NE 6th Street, will be closed in both directions from 6pm Thursday to 10pm Sunday.
NE 6th Street, from Bellevue Way to 106th Avenue NE, will be closed in both directions from 6pm Thursday to 10pm Sunday.
NE 10th Street, from 106th Avenue NE to 108th Avenue NE, will be  closed in the westbound direction from 5pm to 9pm Thursday.
Getting to Bellevue Art Fairs by Public Transportation
BAM ARTSfair is easily reachable by bus. Visit www.ChooseYourWayBellevue.org, Metro Transit or Sound Transit to plan your trip today!