A quick jaunt from Seattle, our vibrant Northwest destination offers globally inspired vegan dining experiences, sampling flavors from South East Asia to the Mediterranean.
---
Bellevue, one of America's fastest-growing cities, boasts world-class lodging and shopping, pristine parks and beaches, a walkable city center, and buzz-worthy culinary options. Better still, as one of the United States' most diverse communities, Bellevue's international food scene is evolving into a vegan's dream destination. Chefs blend Thai, Indian, Vietnamese, and Mediterranean fare to create unique flavor profiles. Even the city's swanky steakhouses offer an increasing number of meatless options.
That's why we're sharing a roundup of Bellevue's 10 best places to find global vegan food!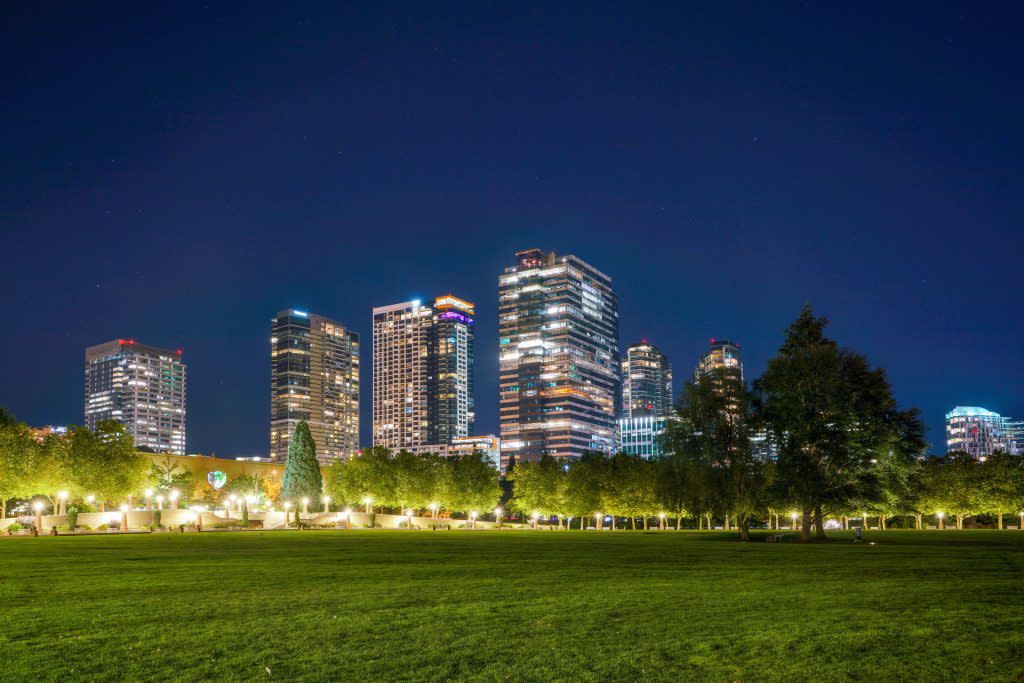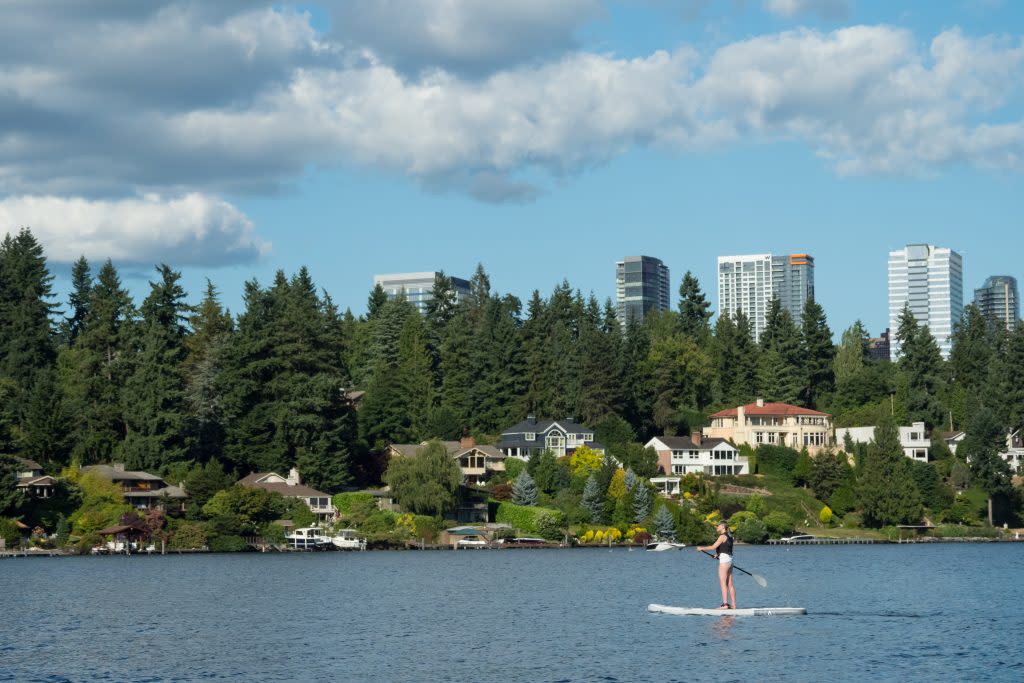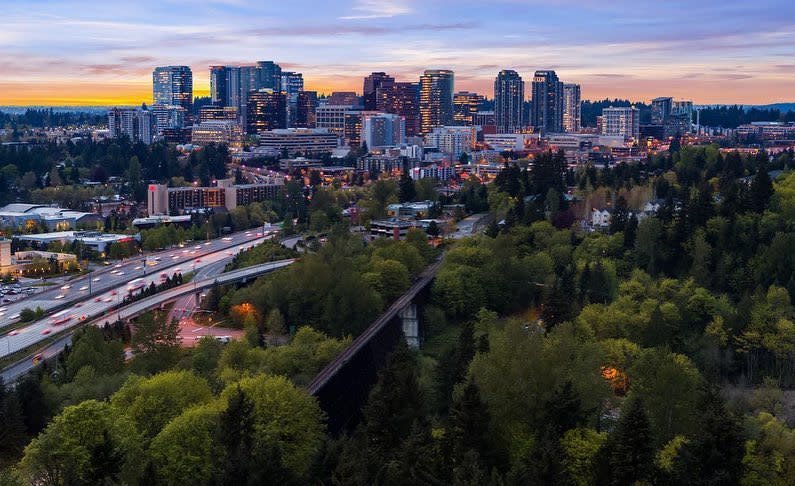 This increasingly popular, family-owned spot was the very first all-vegan Thai restaurant in the Northwest. Located in Old Bellevue, the bright corner café takes vegan Thai cuisine to the next level with a wide variety of dishes such as Panang, Massaman Banana Curry, Sweet and Sour Tofu Stir Fry, Pad Thai, and Tom Yum Fried Rice, plus a daily all-you-can-eat lunch buffet. If you show up midday with an empty belly and time to spare, the lunch buffet is a no-brainer—and you can eat it all, no ingredient inquiries needed.
---

Take in the stunning views of the Olympic Mountains, Lake Washington, and the Seattle skyline from the 21st floor of the Bank of America building, where this restaurant sits in the heart of downtown Bellevue. This traditional steak eatery offers a separate plant-based menu featuring items such as the Impossible Burger with French fries, Kimchi Fried Grains and Rice, almond ricotta-stuffed Cheese Ravioli, Lettuce Wraps with shredded vegetables, soy protein, and chili-garlic ponzu, as well as tasty vegan cocktails such as Pomegranate Gin Fizz and Daniel's Margarita. Here, you can sit back, relax, and let them take care of the rest.
---
Located in Bellevue's Crossroads neighborhood, Dosa House is a counter-serve vegetarian restaurant that offers a vegan-friendly South Indian menu featuring dishes such as Bhelpuri (a puffed rice and vegetable dish), Paani Poori (crisp, stuffed dough balls), and Mixed Veg Uttapam (vegetable-topped pancakes). Visit Dosa House if you want to experience an authentic South Indian meal—just be sure to specify that you're vegan to avoid dishes with dairy.
---
This cozy vegan-friendly restaurant offers an all-you-can-eat vegetarian lunch buffet full of familiar Thai dishes as well as a full-service dinner menu that features dishes inspired by the culture and traditions of Sukhothai, Thailand. Go for vegan dishes such as Green Papaya Salad with plum sugar-tamarind sauce, Pomelo and Crispy Rice Salad, or Crispy Garlic Tofu tossed with homemade sweet chili paste and crispy basil—which will have you calling out for seconds.
---
Ever wondered what a blend of traditional Vietnamese cuisine with Pacific Northwest innovation tastes like? Look no further: Monsoon's omnivore menu boasts plenty of vegan dishes with western touches, such as Curry Soup with rice noodles, tofu, kabocha, taro, and carrots; Wokked Lemongrass Tofu with vermicelli noodles and roasted shiitake mushrooms; and Crispy Vegetable Rolls with tofu, taro, carrots, soy vinaigrette, and herbs—all served in a chic, contemporary restaurant setting.
---
Located across from the beautiful Bellevue Downtown Park, Mediterranean Kitchen serves authentic Middle Eastern cuisine in a quaint setting. Their expansive menu includes a selection of vegan dishes, including specialties such as Fool Moudamas (fava and garbanzo beans tossed in olive oil, lemon juice, parsley, cilantro, and Mediterranean spices), Falafel, Fattoush, and Zahrah (deep-fried cauliflower topped with tahini sauce). Imagine yourself basking in the sunlight of the Middle Eastern Mediterranean coast as you take each bite.
---
It's hard to believe you can now enjoy a vegan meal in a swanky steakhouse such as El Gaucho Bellevue. Here, you can indulge in vegan items from the restaurant's vegetarian menu, such as Tofu Steak with caramelized onions and charred corn succotash, and Quinoa and Grilled Vegetable Plate with marinated grilled vegetables and chimichurri sauce. Visit for a vegan lunch and stay for happy hour while enjoying the floor-to-ceiling windows and attentive table service.
---

Jujubeet Café is a juice company that offers a selection of nutritious wellness elixirs and cold-pressed juices and smoothies made from fresh, organic produce, such as "Just Beet It" (beet, carrot, green apple, and lemon) and "Cacao Wow" (almond milk, almond butter, raw cacao, banana, and vegan vanilla protein), plus a variety of wholesome grain bowls, soups, breakfast items, and salads—most of which are vegan with the exception of a few items that contain honey.
---

One of the Pacific Northwest's seafood restaurants, Seastar offers a selection of rotating seasonal vegan and vegetarian menu items that change depending on what is fresh and in season. In their high-end, luxurious space, you will find vegan dishes crafted by renowned chef John Howie, such as Zucchini Linguini (with tomato, artichoke, garlic, olives, basil, pine nuts, and extra virgin olive oil) and Cedar Plank Mushrooms (portabella, cremini, and shiitake mushrooms with garlic, herbs, lemon, and extra virgin olive oil). Additionally, Seastar chefs often craft various vegan sushi rolls to accommodate vegan guests.
---
Sample delicious Indian food at this vegetarian counter-serve restaurant, which features a variety of curries, flatbreads, chaats (vegetable snacks served with sweet and sour sauces), kulchas (flour dough that is rolled flat and baked), thalis, and various Indo-Chinese options. Can't decide? Let them know you're vegan to get the full rundown of what's available to you, and you'll leave happy with a solid tasty meal in hand.
---