Fall time is the best time to indulge! There's an abundance of delicious food, and it's a time to downshift into quieter seasons. Bellevue's repertoire of fall flavors doesn't end with pumpkin spice. Bellevue is foodie heaven for those seeking extra special seasonal foods with lots of flair that go beyond pumpkin spice. Although we love that incredible flavor combo, Bellevue has embraced the flavors of harvest season to deliver an elevated fall food selection. We've put together a list of 10 Fall eats for you to feast on when you visit Bellevue.
Fall Treats & Drinks
Let's be honest, fall time is all about the treats! The desire to set out on a quest for delicious fall time treats is strong the instant the first leaf drops. Suddenly, all we want is pumpkin spice, cinnamon & sugar everything. Luckily, Bellevue has some incredible ice creameries, bakeries, and cafés serving the finest in fall dessert delights.
Pumpkin Ice Cream
The warm flavors of pumpkin spice are cooled and creamed into a silky-smooth treat guaranteed to give you all the fall feels. Here are some Bellevue Ice creameries serving up pumpkin ice cream and other fall-inspired flavors.
Frosty Barrel- Pumpkin Hot chocolate Paired with Pumpkin Ice Cream
This innovative eatery brings frozen treats in a truly unique way. The Frosty Barrel's uniquely flavored ice creams are paired with handcrafted hot chocolates made from real chocolates and spices. Perfect for the fall season, enjoy their pumpkin cheesecake hot chocolate with a scoop of their frosty pumpkin ice cream. You can even enjoy their dairy-free pumpkin pie ice cream, both are delicious!
Molly Moon's Ice Cream
A local favorite, Molly Moon's Ice Cream's Flagship location is located in Bellevue, and with it is an array of uniquely flavored handcrafted ice cream. Known for it's rotating menu, Molly Moon's in Bellevue has introduced some cozy fall flavors and toppings to their list. Their fall flavors include:
The Milky Moon bar- all the flavors of a classic candy bar with chewy mini marshmallows with ribbons of vanilla caramel.
Pumpkin Clove- this fan favorite is made with autumn spice and freshly roasted Stahlbush Farms pumpkins.
Salty Toffee- Obsession-worthy flavor made with homemade crunchy & buttery toffee coated in dark chocolate with buttery brown sugar toffee ice cream.
Vegan Crisp Crumble Toppin- Crunchy clusters made from organic oats, fair trade cinnamon & sugar turns every scoop into a slice of pie.
Cozy Fall Drinks & Pasteries
Nothing says fall time like a delicious cozy spiced drink to warm you up as the temperature drops. Home to many inspired indie cafes, Bellevue has some must-try elevated fall drinks to sip on as you explore our beautiful city.
Bellden Café- Elevated Pumpkin Spice Latte and Fall time Oatmeal Bowl
Always one of the friendliest places in Bellevue, Bellden Café is featuring a Harvest Apple Toast and Oatmeal Bowl made with their famous house-made Apple Compote: fresh apple, brown sugar, aromatic cinnamon, and exquisite vanilla for the fall! Be sure to try their elevated house-made pumpkin spice latte, which features a delicious handcrafted syrup.
Farine Bakery & Café- Caramel Apple Waffle & Pumpkin Tart
This Belgian & Parisian-inspired bakery is new to Bellevue and is already making fans. For their fall delight, Farine Bakery & Café is featuring a Pumpkin Tart and Caramel Apple Waffle, among other items that are sure to make you feel as if you've been transported to a bakery in Belgium.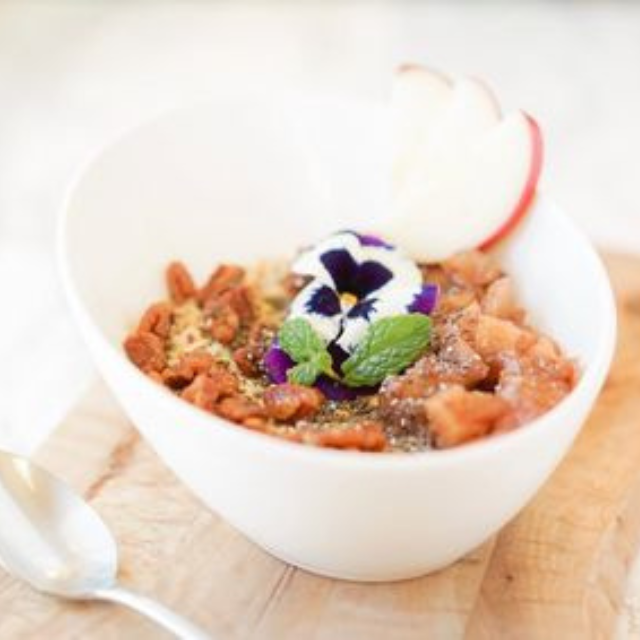 Photo courtesy of Bellden Cafe
Trophy Cupcake- Caramel Apple Cupcake
Along with its vast array of unique gourmet cupcake flavors and baked goods, Trophy Cupcake has added its Caramel Apple cupcake to the roster. "Yummy spice cake is filled with spiced apples and topped with caramel buttercream, that's edged in toasted pecans. The pretzel and green leaf make it the apple of our eye"-Trophy Cupcake.
Le Experience- Halloween Cake
Are you looking for an extra special Halloween treat? Le Experience Paris, Bellevue's own portal to France, has created s spooky poltergeist Halloween cake that is otherworldly. Available October 28, 29 or 30. This spooky cake is made of a light vanilla mousse with salted caramel, on an apple crunch and biscuit Madeleine. All covered with an apple glaze and decorated with a spooky ghost made of chocolate.
Mercury Coffee- Ginger Pear Galette, Pumpkin Cheesecake & More
This growing coffee house specializes in more than just a delicious cup of Joe, Mercury Coffee stays busy baking away mouthwatering pastries and desserts to pair with their delicious coffee. Their unbelievable spread of Fall offerings features: inger Pear Galettes, Pear Danish, Pumpkin Cheesecake, Pumpkin
Dote Coffee Bar- Fig & Pumpkin everything!
This specialty coffee bar is known for its expertise in coffee and renowned pastry chefs, and we recommend visiting if you're seeking an elevated experience for coffee and pastries. Dote Coffee Bar makes is a point to feature new seasonal flavors for their drink and pastry menus. For fall, they launched their Violet fig and Pumpkin spice flavors that are used in their Pumpkins Spice lattes and Violet Fig mochas, affogatos, macarons, and truffles.
Civility & Unrest- Fall Cocktails
This swanky speakeasy is known for its innovative flavors and masterful mixology. For Fall, Civility & Unrest is serving up a Bourbon, Apple and 5 spice cocktail! Served 2 ways, hot in a snifter (drinks like a mulled wine, with a nice inner blanket feel). For a chilled experience, it will be served over our big clear ice, made in-house. For pumpkin spice lovers, try their Pumpkin spice espresso martini with our house-infused Pumpkin spice vodka, vanilla and coffee liqueur, and cold brew.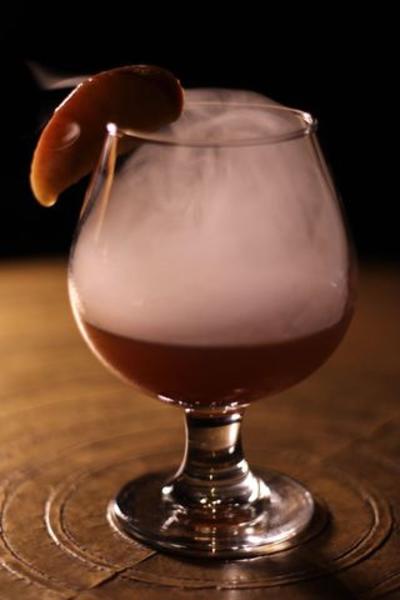 Photo courtesy of Civility & Unrest
Special Fall Dining at Ascend Prime Steak & Sushi
Fall is an excellent time to get dressed up in your new fall wardrobe for a beautiful dinner and night on the town. If you're looking for a show-stopping experience delivered at the top of the city, Ascend Prime Steak & Sushi is just the place for you. Located on the 31st floor with panoramic views of the city and a super chic vibe, the acclaimed restaurant is offering two very special seasonal items: the Scorpion Chop and The Hive. The grand and opulent Scorpion Chop is presented on a tableside carving station, this experience for the whole table highlights a 5.5-pound, miso-cured, double-chop Mishima Reserve American Wagyu long bone steak, complete with a lobster, premium caviars, and seasonal truffles. After this incredible dinner, such luxury needs a sweet counterpart, and Pastry Sous Chef Arielle Fernandez's tableside flambéd dessert hits all the marks. Titled The Hive, this interactive demonstration of pastry arts was created by Fernandez this spring, when she was just 20-years-old and as her first debut on the menu. 

Photo Courtesy of Ascend Prime Steak & Sushi
Enjoy!
Bellevue has so many delicious fall foodie delights to choose from this season. The question isn't which one should you indulge in, it's whether you will have enough time during your next visit to enjoy them all.