Downtown Bellevue is the primary economic and employment center for the city and the region – and has become one of the fastest-growing downtown centers in all of North America. Downtown sets a high bar for urban living, including upscale retail and a wide variety of dining and entertainment options. Downtown is now home to an intergenerational community, all enjoying the walkability, safety, and energy of living in the heart of Bellevue's city life. 
Highlighted by Downtown Park with Inspiration Playground, the new Meydenbauer Beach Park on the shores of  Lake Washington and KidsQuest children's museum next to Downtown Library are all within walking distance. Something fabulous is always close by it could be a new exhibit at the Bellevue Arts Museum, a show during summer's Jazz Festival, the cutting-edge Bellwether arts experience, Wintergrass music festival in January, or some winter family-fun at Snowflake Lane. Old Bellevue on Main, the Bellevue Collection, the Bravern, or any of the specialty stores and restaurants located downtown provide opportunities to discover something new year-round. Downtown is also home to Bellevue's Meydenbauer Convention Center and City Hall. The future for downtown Bellevue is bright. The city's plan is to make downtown even more viable, livable, and memorable. The Grand Connection will create pedestrian connections between Meydenbauer Beach Park, Downtown Park, along the Pedestrian Corridor and across I-405 into Wilburton.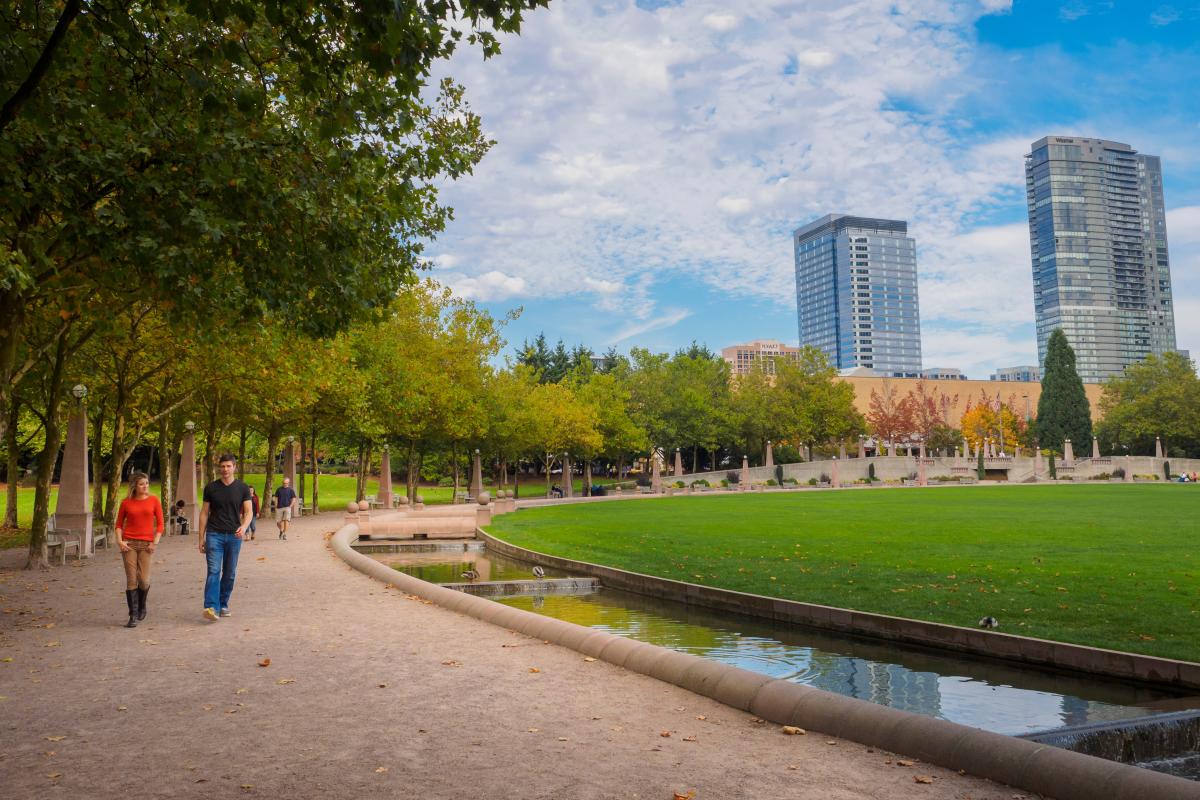 Somerset including Factoria, Eastgate, Hilltop, and Coal Creek
Known for its excellent view of Bellevue, Lake Washington, the Olympic Mountains, and the skyline, home to the HQ for T-Mobile in Factoria, Somerset is a desirable place to live. The neighborhood sits on a large hill with an elevation of just under 1,000 feet. The neighborhoods of Factoria, Eastgate, Hilltop, Newport Hills, and Coal Creek surround Somerset. The general vibe in Somerset is safe, family-friendly, and residential. Residents can take a stroll to the northeast corner of the neighborhood to the family friendly Eastgate Park to use the ballfield, tennis courts, picnic tables, play area, or nature trails. Or, take an even longer trek through the Coal Creek Natural Area's winding, 4.5-mile forest trail.
Beaux-Arts Village including West Village
Beaux-Arts is a tiny neighborhood that sits on the west edge of Bellevue, right on Lake Washington. The charm of Beaux-Arts comes from its small-village vibe, jaw-dropping water views, tree-lined residential streets, and private beach that the residents keep up themselves. The neighborhood is home to a mix of old and modern structures, adding to its visual interest. West Bellevue and Woodridge surround Beaux-Arts.
Other than enjoying the private beach and taking in Lake Washington, residents can spend their downtime at Chesterfield Beach Park, take a dip, or paddle a kayak at Enatai Park, both sitting just north of the village. There are also many nearby restaurants and coffee shops.
Lakemont
Sitting on the north face of Cougar Mountain and the eastside of Bellevue, Lakemont is known for its woodsy vibe and two parks: Lakemont Park and large Lewis Creek Park. The parks are known for their lush green foliage, winding trails, and the feeling that you're truly out of the city. The proximity to Cougar Mountain even allows hikers to catch a glimpse of wildlife, like deer and black bears. The neighborhoods of Montreux, Cougar Hills, and Coal Creek surround Lakemont. This community also straddles nearby Issaquah.
Meydenbauer Bay
The Meydenbauer Bay neighborhood is on Lake Washington, surrounded by downtown Bellevue, Clyde, and directly north of Beaux Arts Village. The expansive Mercer Slough Nature Park borders the southeast corner of the neighborhood. Overall, Meydenbauer has a relaxed, residential urban vibe, with a mix of beautifully maintained old and new homes. Many young professionals live in this area, but the average age of residents is 50 years old. Because it's close to Bellevue Square, Meydenbauer is known for its shopping options. This area also has plenty of trendy places for meals and cocktails and is close to the Bellevue Art Museum, the Downtown Park, and City Center Plaza, making it one of the more bustling Bellevue neighborhoods with lots to do.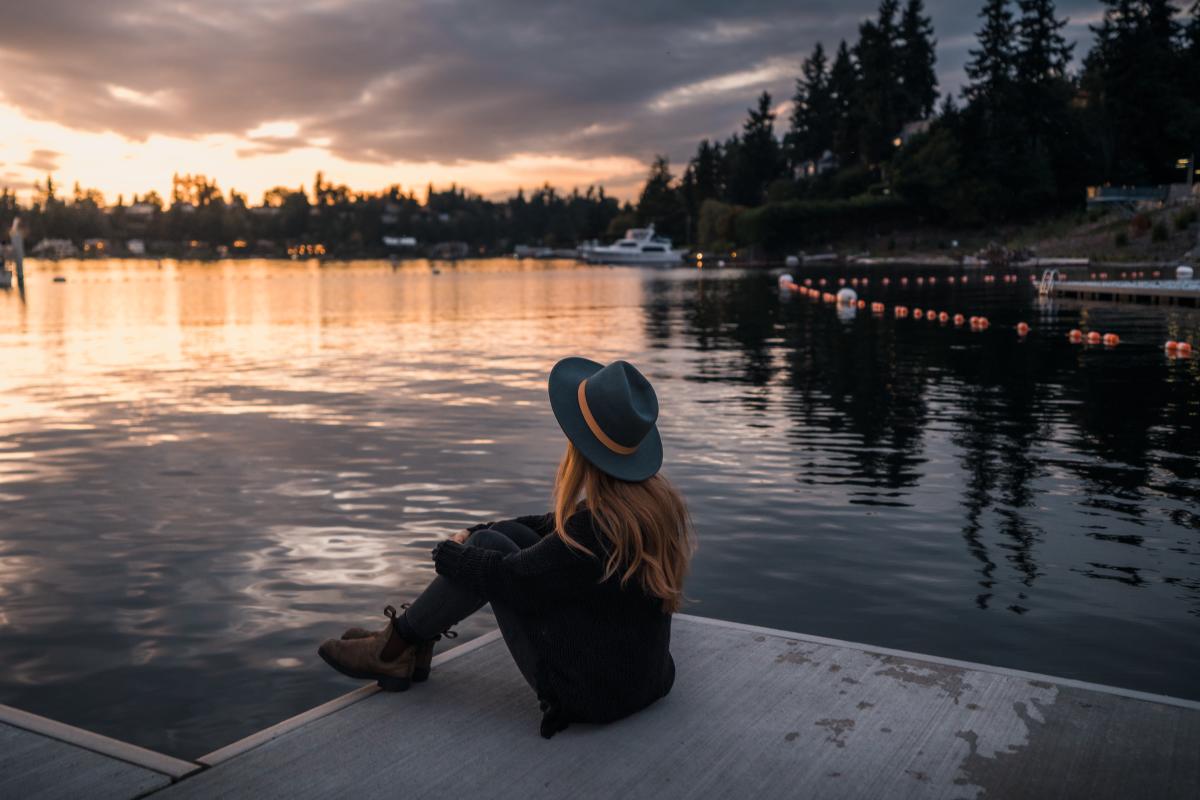 Tam o' Shanter
Known for its beautiful Tam o' Shanter Golf and Country Club, and gorgeous views, the Tam o' Shanter neighborhood sits right on the shores of Lake Sammamish, on the eastside of Bellevue. Lake Hills, Viewpoint, Highlands, and Crossroads surround this community. The general vibe of this neighborhood is quiet and residential. The Tam o' Shanter Park is a family-friendly, well-kept, 15-acre greenspace that's complete with winding forest trails, walkways, indigenous plants, a picnic area, and a playground. Just north of this neighborhood sits Ardmore Park, another popular family-centric park.
Newport Hills
Newport Hills is a large community that sits on the west side of Bellevue, near the shores of Lake Washington near the Pines, Hazelwood, Newport, Newcastle, and Coal Creek neighborhoods. Just to the east of Newport Hills is the expansive Coal Creek Natural area, known for its various trails, and The Golf Club at Newcastle. The general vibe of Newport Hills is residential, family-friendly coziness. Newport Hills features its own Newport Hills Park, which boasts a play area, soccer field, ballfield, restrooms, and ample parking, making it attractive to families.
Interlake
Sitting on the east side of Bellevue, near Lake Sammamish, Interlake is known for its proximity to all that Bellevue has to offer. Interlake is near Crossroads, a popular mall complete with trendy shops and boutiques, restaurants, a large food court, live music, events, and a multi-screen movie theater. Interlake has a mixed vibe due to its residential and commercial areas. The neighborhood is home to many families, green parks, and proximity to downtown Bellevue. Most residents of this area own their homes. Highly rated Interlake High School offers the International Baccalaureate program and boasts some famous athlete, political, and musician alumni.
Residents of Interlake are within walking distance of Crossroads Water Spray Playground that boasts play equipment, gardens, a community center, and a nine-hole golf course.
Woodridge
Woodridge is known for its gorgeous views from atop a hill, numerous parks, proximity to downtown Bellevue, and beautiful homes. Many of the homes are large, mid-century, single-family homes that overlook Lake Washington. Woodridge sits near the neighborhoods of Norwood Village, Wilburton, Lake Hills, Robinswood, Factoria, and Mercer Slough Nature Park. The general vibe of Woodridge is a mix of city life, residential coziness, and green spaces. The three parks are Bannerwood Ballfield Park, Norwood Village Park, and Woodridge Water Tower Park. Woodridge Water Tower Park boasts a long shady trail, perfect for urban hiking and serious bird watching. Residents of the area also have access to Woodridge Open Space, with its 2- acres of upland forest, and a community pool. Woodridge is also home to the Wilburton Trestle, the Pacific Northwest's longest wooden trestle, clocking in at 975 feet.